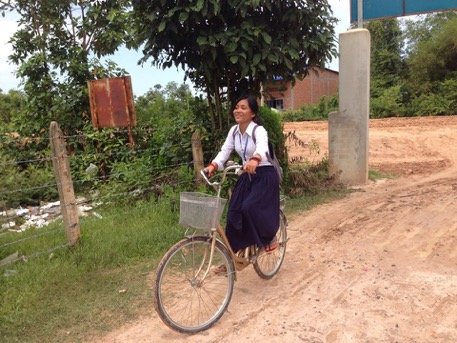 At this moment we have over 330 Lotus Pedals students benefiting from your generousity. This number will be growing as we expand to India! This story below illustrates the importance of your support and how you are empowering girls and women in the developing world.
Theara, a 16-year-old, is living in Trapeng Smach Village in the Svay Rieng province of Cambodia. Her family has 4 members—her mother, an older brother and an older sister. Without a father, her mother is the head of house. With a meager wage at the garment factory, her family is fallen into debt. Because of this such difficult situation, Theara's mother sent her to live with her uncle in a wooden house with tin roof and no proper walls. In her free time, she helps her uncle cook, do housework and look after buffalos.
Currently she is studying in the 9th grade at Trapeang Banteay high in the Romeas Hek district. Her school is around 6 kms from her uncle's house. Before receiving a bike from the Lotus Pedals Program she usually rode tandem on a friends bike. Sometimes she had to miss school when her friend didn't come to pick her up. Because of her circumstance, she hasn't been able to attend school regularly. Unfortunately, her school performance dropped. Given that she couldn't keep up with the class, she wanted to drop out.
In collaboration with the Scholarship Committee of Lotus Outreach's partner Santi Sena Organization, Theara was identified as a qualified recipient for Lotus Pedals. She loves studying and told us during the interview that "I want to study at higher grade, but it is hard for me to continue to stay in school because my mother doesn't have enough money to support my education, nor can she afford to buy me a bicycle."
After receiving a bicycle from Lotus Pedals in March 2017, she has been able to attend school regularly and her school performance has improved as well. She now feels more confident and shows high commitment in staying in school. "I dream to be a doctor in the future in order to help other people," said Theara.
Theara is very much grateful for the bicycle and would like to deeply thank the program as well as the donors for providing her with a precious means of conveyance through Santi Sena Organization to access to and acquire more education.