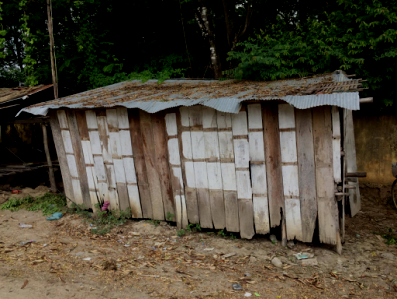 Living in a small, dilapidated cottage, 7th grader Socheata and her family make the most of what they have. Her family which includes her mother, father, and brother live in harsh conditions due to their economic situation. Socheata's family does not have a stable income and are forced to be creative with the materials for their home. The side of their house came from an old fence of a nearby university. With no bathroom or bedroom, life in the house can be difficult. Socheata often sleeps with her grandmother in a different hut.
Socheata's parents make their living by green water harvesting and working as motor drivers. A large debt from a medical expense in their past sets their family back $30 dollars every month.
Socheata has attended school minimally; and without a bicycle, she has had to walk to school every day which takes her somewhere between 15-20 minutes. Sometime her friends kindly allow her to get on the back of their bicycles. "I always feel tired and don't want to eat and drink after walking back home" she mentioned. The heat and the threat of danger along her walk have impacted her performance in school.
After being admitted into AusCam Freedom Project (AFP), Socheata was provided with the tools to make sure she could go to school like the other children. She received the scholarship package which included lots of study materials, uniforms, and shoes that would last her a year. She now can attend extra classes while she receives assistance and coordination from AFP and the school director. Moreover, with the AFP's partnership with Lotus Outreach Cambodia and Douglas A. Cambell Foundation, Socheata is now able to arrive at school safer and quicker. "I am very happy now as I can go to school by bicycle, I have enough study materials, attend in extra classes without paying the money and now my grade is better than before I attend in this program" said Socheata. This scholarship has made it easier for her family to save money because in the past they have sacrificed a lot to be able to send Socheata to school.
Cambodia lags in the realm of girl's education and the roads to school are long and full of hazards. These bicycles provide a powerful component to education programs and continue to make education accessible in these economically and socially destitute regions. A few hundered bicycles result in many more deserving girls in classrooms across Cambodia.
Socheata wants to be an accountant in the future. Mathematics, English, and the Thai language are important to help her reach this goal and she said she will study hard to get there. Lotus Outreach is proud to be a part of her life and to be able assist her in reaching her educational goals. Thank you to the donors who contributed to our Lotus Pedals program and specifically, allowed Socheata the tools and support she needs to continue in school.