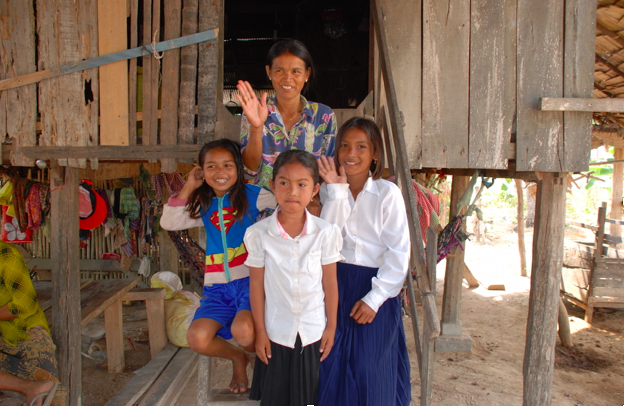 In the last 18 months, 211 bikes were provided to Lotus Pedals students. These Lotus Pedal students were provided a pump, lock and repair kit to ensure their bicycles take them to school every day. The following is an account of a home visit conducted by Lotus Outreach's Director of Field Operations, Glenn Fawcett, which explains the personal story of a Lotus Pedals scholars, Srey:
We travelled along the raised banks of rice fields in the car until we could drive no more, then we walked the last few hundred metres to a modest, stilted wooden, traditional style Cambodian village home.
We sat in the coolest place, which in most Khmer homes is under the house and as far as the hot summer sun as possible. Srey sat with her grandma, on a low, traditional wooden platform. On her face a wizened smile beyond her years.
We asked her why she was given the bicycle and when. "I received the bike as I am an orphan and didn't have a bike. It was presented at a big ceremony not so far from here on 5th November last year. Before getting my new bike I used to walk to school or catch a lift with a friend". Her grandmother told us the very sad story about how Srey became an orphan. "Even though her parents had five children, they decided to get divorced. There were 4 boys and Srey, the only girl. They called the community to a meeting and told them they would each take two of the boys and you (all) can do what you want with the girl as we are leaving her here.
This was of course extremely painful for all of us to hear this, especially in front of Srey who must find revisiting such details deeply disturbing. We quickly recovered from the shock and deflected our questions to her 53 years old grandmother and a mother of NINE! I could only think what a saintly person she is to take on another child when she has so many mouths to feed and care for and already living deep enough in poverty.
We then asked Srey to tell us what the Lotus Pedals program conditions required of them and after thinking a little (she is only 12) she told us, "We should not sell the bike and have to maintain it". Kin, her grandmother, further volunteered, "We will keep her in school as long as she likes." Again we were humbled by her grandma's generosity and began to ask Srey about her studies. She excitedly and with bursting pride tells us, "I am 10th of 41 in my class but I want to be third!" We asked why only 3rd, why not first? To which she replied, "impossible!" We weren't sure why she could not hope for first, (but you can imagine) but the point remains she is an intelligent young girl abandoned by her parents and doing well in her studies against all odds. We asked what is her dream for the future and she told us, "I want to do something connected to medicine. Maybe I cannot become a Doctor as that is very hard and expensive, but I can do something medical."
Srey's school is currently a little less than 2 kms from her home but when she graduates primary, the lower secondary school is far off. When asked about upkeep we were told the dog had chewed up the pump and her bike had a flat tire!!! Being concerned about such things we asked how long it's been flat and to our surprise she told us it was punctured as she was riding home to meet us!
We asked what would she do? Srey told us she has the patches and glue and will take it to a nearby neighbour's house where a man will fix the puncture. She also told us about her bravery while learning to ride. "You can see the basket has come off and that happened while I was teaching myself to ride. I fell off 5 or 6 times and also broke my uncle's number plate on his motto and for which I got beaten.
We left with a prayer in our hearts for this courageous girl and her adoptive family and that Srey will continue studying and realise her dream of working in the field of medicine.
Thank you for all the supporters who contribute so generuosuly to the lives of these students.