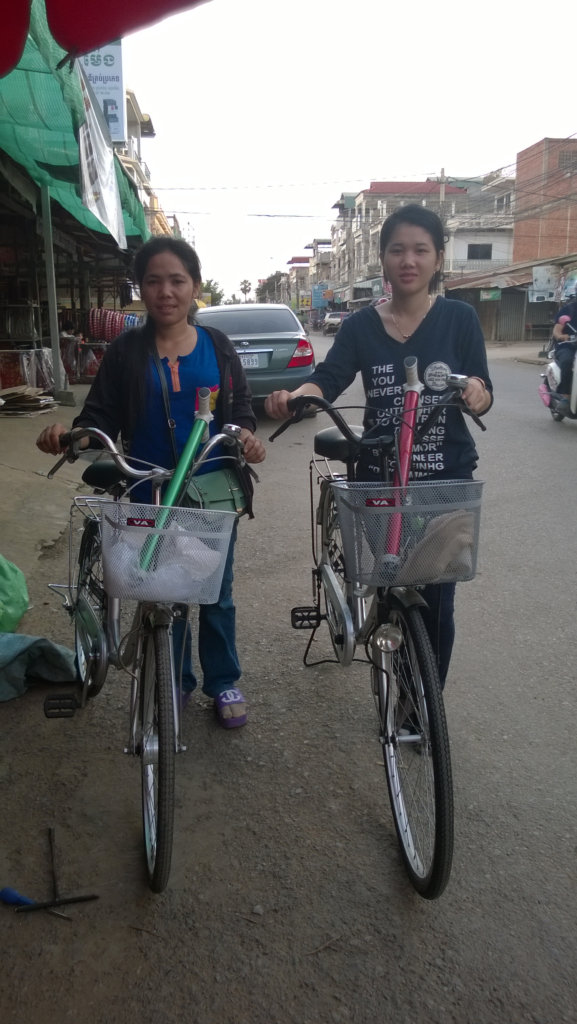 The following project explores Ratanas's long-term pursuit of her education. Ratana's story starts within our CWCC program and traces her steps up to her Lotus Pedals bike!
Ratana, 24 years old, is originally from Muk Wat Village, Kompong Klang Commune, Sout Nikum District, Siem Reap Province. Her parents are farmers. She has 5 siblings—2 girls and 3 boys—and she is the oldest child. Unfortunately, when Ratana was young, there was domestic violence within her home. Ratana's mother decided to seek intervention from the Cambodian Women's Crisis Center (CWCC) and spent several months staying in CWCC's safe shelter.
Through her relationship with CWCC, when Ratana was in sixth grade, she was chosen to be a recipient of the Girls' Access To Education (GATE) project implemented by CWCC with funding support from Lotus Outreach. When the program first found her, she was so discouraged and about to drop out due to both poverty and domestic violence. "When I was in primary school, my father always drank alcohol and came home beating my mother. I got so depressed and ashamed that I didn't want to go to school any more", Ratana said.
Having been in the GATE program, Ratana gained her aspiration and strive back for a better future. Ratana studied hard and eventually graduated from high school in 2011, which wouldn't have happened without the support of the program. While she was so excited and eager to pursue her dreams, her heart fell and sank once again given that her family could not support her to pursue her study at university. She was thinking about giving up her dreams and looking for labor job to support her family. Luckily, Lotus Outreach decided to continue supporting GATE graduates to do tertiary education (under another project called GATEways) and Ratana qualified for it! "I thought that I had no fortune to attend university like other students since my family couldn't afford it. Without the supporting from the program, I would surely be working in the farms right now", she said.
Nowadays, Ratana is a third year student of midwifery at Regional Training Center of Battambang. With the supporting from GATEways program, Ratana has been receiving 15kg rice support every month, monthlystipend, accommodation, utility, English and French tuition, and computer course.
Living far from home is not easy for Ratana and without any transportation of her own, Ratana often walks many miles to school. Sometimes, she was late for her classes and couldn't concentrate on her studies other times she had to walk through dangerous parts of town. Moreover, she was participating in an internship at one of the local hospital in Battambang province in mid August and was worried about how she would commute there. Ratana wished that she could have a bicycle that would take her to school and her internship. In responding to this simple wish of hers, Lotus Pedals, implemented by Lotus Outreach Cambodia, gave a bicycle to Ratana on August 8, 2015 in Battambang Province with facilitation from GATEways project officer. Ratana was extremely delighted and grateful to the program for always responding to her needs. "I am very thankful to donor for always supporting me, both with my study and my living. I am very happy and truly appreciate this kind and caring gesture toward me. This bike will help me a lot with my transportation to school and to work. I would like to wish all the people who have been making this possible for me to come this far with all the best of luck, health, wealth, success and prosperity.", Ratana expressed her feeling.