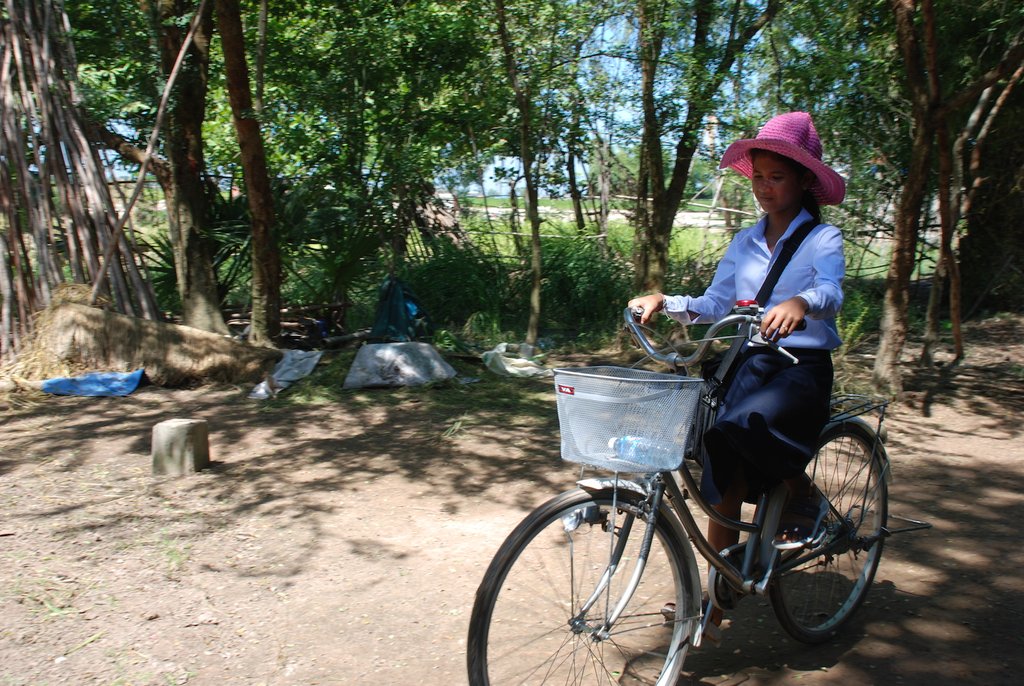 The Lotus Pedals program provides transportation to girl students who live in rural communities, often without public transportation near by. By providing these girl students with bicycles, it gives them the mobility to go to school, and gives them the independence of getting themselves there on their own. The $62 bike opens many doors for these girl students who would not have had the chance to go to school otherwise. Only 11% of Cambodian girls attend secondary school. Lotus Pedals is working to improve that disheartening statistic.
Cheng, a Cambodian 16 year-old girl, has benefited from the Lotus Pedals program immensely. She is in secondary school in the Phnom Kravanh district. Before Cheng received the Lotus Pedals bike, she commuted 3 kilometers a day to school and back. After completing her studies in grade school, she then transferred to a high school. Unfortunately her new high school was 7 kilometers away from her home which made the journey much more difficult.
Cheng's family owned two old bikes that had to be shared with her two other sisters. Both Cheng and her sister study together at the same high school but are in different grades and have different schedules. They were forced to coordinate with each other, which often made both Cheng and her sister late and absent from their classes. On top of it all, the bike that they were sharing began to have many problems. With the difficulties of bike repairs and coordinating with her sister, Cheng began to fall behind in her education and felt she needed to drop out of her classes.
Once Cheng received her Lotus Pedals bike, she was delighted to have access to school again. Her attendance and timeliness at school since receiving the bike has been perfect, without missing a single day of class. She has shown improvement in her education, and doesn't have to worry about sharing a bike with her sister, or having endless bike repairs.
Cheng says that she has goals to pursue her education and attend university with her friends. She then hopes to have a successful career. Overall, she wants both her and her sister to keep on perusing their education to eventually provide for their family and create a better life for them all.
The Cambodian Organization for Children and Development (COCD) enabled Chang to continue her education by gifting her this bicycle. Cheng would like to thank all of those involved and wish them success in all tasks.