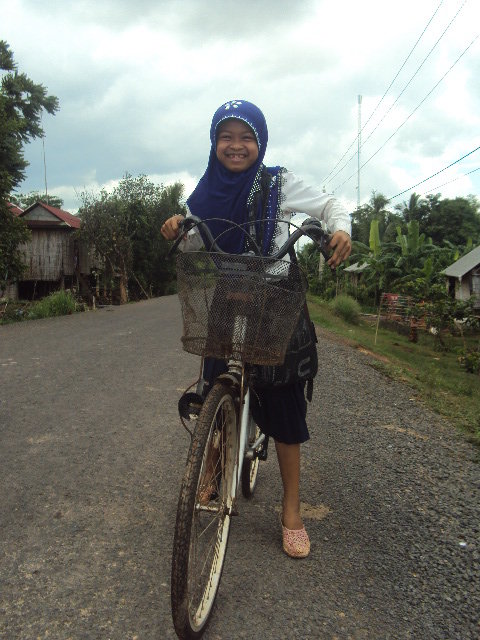 In Kampong Cham Province, outside of the Cambodian capital city of Phnom Penh, lives a young girl named Nita. Nita is in the 5th grade and is the oldest of 3 children. Her mother is a single parent who works as a paid laborer in the rice fields and struggles to provide for her children's future.
Like many students before they received a bicycle from Lotus Pedals, Nita had difficulty getting to school on time, because there are no school buses to take her. Sometimes she would sit on the handlebars of her friend's bike to get to school. Otherwise she had to walk over a mile through streets which are very dangerous for a girl as young as Nita. She missed many days of school and her education was starting to slip away.
All of that changed when she received her very own bicycle from Lotus Pedals. The ride to school became much shorter and safer, and now Nita is in the top quartile of students in her class (eighth of thirty-five students).
Just $62 can provide a girl with an all-terrain bicycle and a repair kit to keep her bike in perfect working condition! Transportation is essential to making education possible.
Education is one of the greatest things that can happen for a girl in Cambodia. According to the World Bank, when a girl in the developing world receives seven or more years of education, she marries four years later and has 2.2 fewer children; an extra year of secondary school boosts her eventual wages 15 to 25 percent. Increased wages enhance a woman's bargaining power in the household and consequently her ability to meet the needs of her children.
Despite these truths, 70 percent of the world's out-of-school children are girls.
Your generosity helped Lotus Outreach deliver 784 bikes in the last year! By helping Lotus Outreach perform this vital service, you are making sure that young girls like Nita have a chance to break the cycle of poverty and advance to greater things.
Thank you for supporting Lotus Outreach and Lotus Pedals!