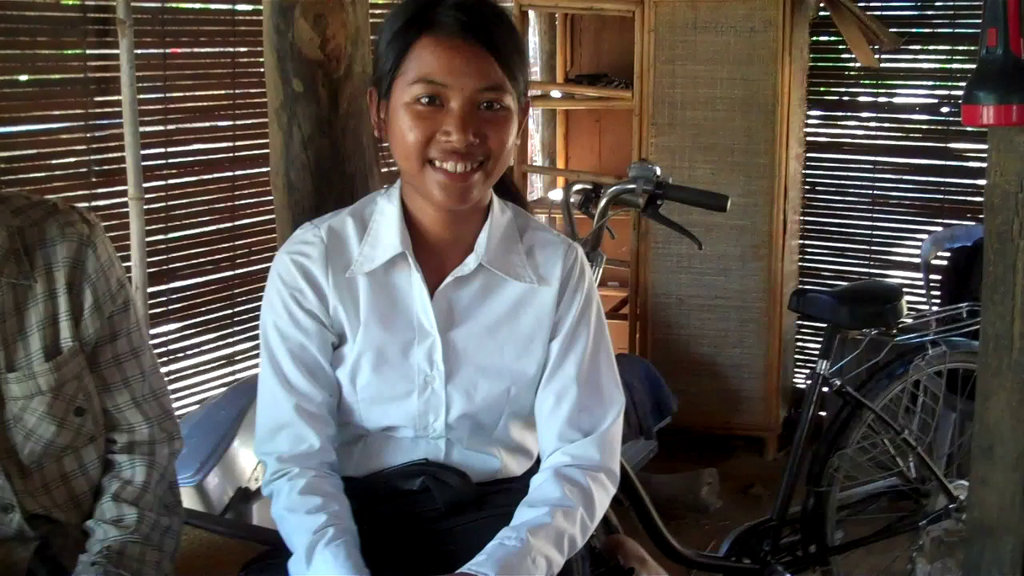 Sross is a student at Hun Sen Prek Pra Lower Secondary School, a school named for Cambodia's longtime dictator, Hun Sen. Living just outside of the country's largest city, Phnom Penh, Sross's family subsists on just a few dollars per day of income. She has three sisters and two brothers, but only she and one of her brothers have not quit school.
"My three elder sisters all work in the garment factory," she tells us. "Some get $70 or $80 per month, but if they work overtime, they can get $100 per month."
Life working in a garment factory is not easy, and even though the pay is not high, the modest wages are highly sought after by men and women throughout Cambodia.
Young Sross though, has higher aspirations: "As for me, I am not working in the garment factory. I am studying." She explains, "In the future, I want to work using my intellect. I don't want to do manual labor."
Sross is one of the hundreds of Cambodian girls who have received bicycles from Lotus Outreach's Lotus Pedals this year. Since January of 2013, Lotus Outreach has ensured that 302 young riders can get to school to attain their dreams. The program has identified 381 additional students who may qualify to receive a bicycle, and still thousands of girls across the country want to attend school, but have no means of transportation.
Before she received a bike through Lotus Pedals, Sross either had to get a ride with friends, or walk 4 km to school by herself. Her eyes well up with tears talking about the difficulty of getting to school. Walking long distances is not just inconvenient; it can be dangerous because of violent crime or very difficult and muddy in the rainy season.
To overcome the difficulty of a long commute, even in rainy weather and muddy roads, Lotus Pedals provides its young scholars with heavy-terrain bicycles. The bikes come equipped with a basket for carrying supplies, all-terrain wheels, and a back wheel cover to shield the rider from mud and rain thrown by the wheels.
"Now that I have the bike, I can go to class and even attend additional sessions on some days. I never miss school!"
Less than 24 percent of Cambodians finish secondary school, and the percentage of girls who graduate college is in the single-digits. Nonetheless, Sross is determined to be the first in her family to complete college and become a lawyer. She says she wants to serve the falsely accused and the poor who cannot afford representation.
So many girls are determined to do great things if we just give them the opportunity that an education affords! Just US$80.00 provides a girl with a fully equipped bike, a repair kit and a pump. This small expense is affordable for so many but out of reach for these young women seeking to improve themselves and their community.
With tears in her eyes, Sross tells us, "I am very thankful to the donors for providing me with this bike."
Thank you so much for supporting Lotus Outreach and making the dreams of girls like Sross possible!
Links: