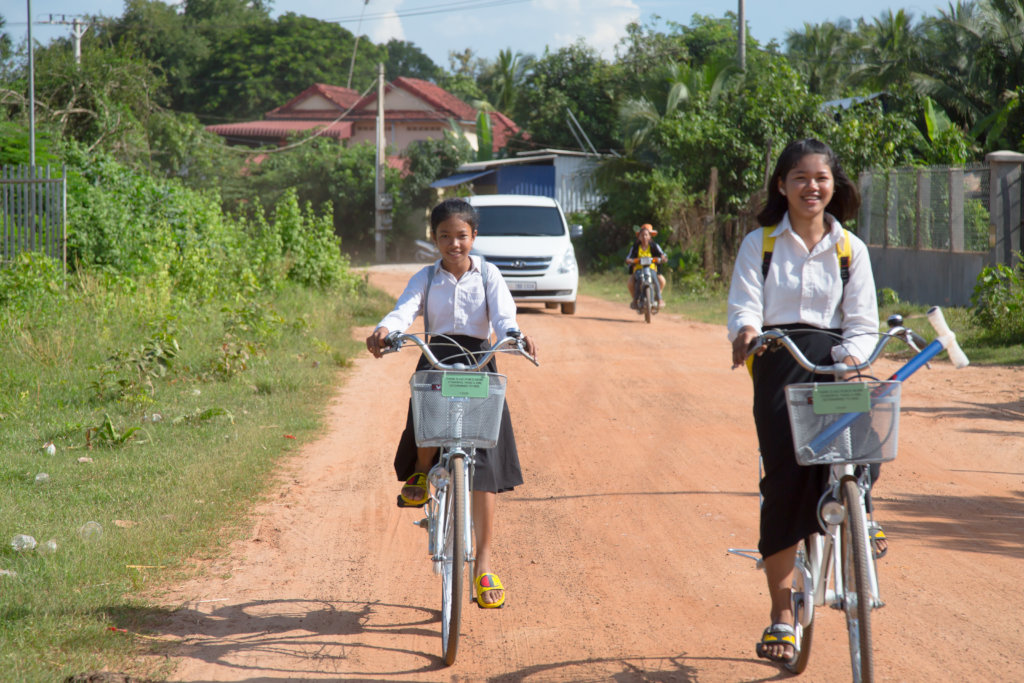 The school year in Cambodia starts in November, so to ensure students have means of transportation to school, Lotus Pedals gave away 50 bicycles to secondary school female students in Takeo Province in October.
After the giveaway ceremony at school, the program visited two students, Sreykat and Vattey, at their home and asked a few questions:
(a) if they think education is important and why,
(b) if what the new bike mean to them, and
(c) if what they imagine for their future.
Sreykat is 13 years old and studying in seventh grade. "The reason that I go to school is because I have a dream, which is to become a teacher of Khmer Literature. I think education is very important because if we are not educated, it will be hard to get a job. When we are educated, it is very easy, we can do any work," Sreykat explained. "Before getting this bicycle, I had an old bike that broke down very often and the brake didn't work either, so I was always worried that I would hit people or fall over because of the bumpy road. I am very happy to have received this new bicycle. Thank you (the donors) so much for your generous support."
16-year-old Vattey is studying in 9 th grade. Vattey wants to be a teacher and here's why: "I want to be a teacher because I want to teach my villagers to be educated so they can get a good job. I am very excited to have received this bicycle. This bicycle will help me to pursue my future. Before, I had an old bicycle to ride to school but sometimes it broke down on the way--the tire often got flattened or punctured--so I had to walk to school on 2km road."
"Sometimes my mother took my bicycle to the rice field, so I had to walk my younger sibling to school," Vattey added. Vattey is very grateful and would like to give her gratitude to all the donors for this generous gesture.
Your donations over the years have been so meaningful. Because of your generosity, we have been able to keep more than 3,000 girls in school as long as possible. We strongly hope that you will continue to stand with us to make our mission worthwhile.