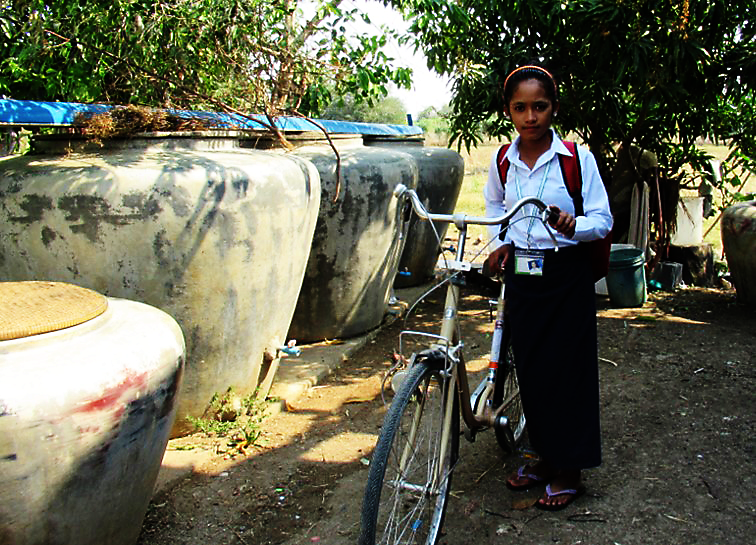 Lotus Pedals helps to provide all-terrain bicycles to girls in rural areas who would not otherwise be able to travel the long distance to school. By supplying bicycles to the poorest girls living a minimum of one mile from their nearest public school, this program is a powerful component to our education efforts in both India and Cambodia.
Last December, we gave away 17 bicycles to girl students in Battambang Province in collaboration with our local partner, Cambodian Volunteers for Community Development (CVCD). Let's meet one of the beneficiaries, Sreylim!
Sreylim is 14-years-old and the first daughter of a family of 5 children (3 boys and 2 girls). She is studying in 7th grade at Boeung Bram Secondary School. Her mother, 40 years old, is a single mother and the only income earner in the family. She migrates for seasonal work along the Thai border making $5 per day, leaving Sreylim and 4 other children in the care of her parents. As the first daughter, Sreylim always helps her grandparents look after her younger brothers and sister.
Sreylim lives 4kms from school and was community on foot everyday as her mother couldn't afford to buy her a bicycle. When it became too much, she decided to drop out. Sreylim explains, "I decided to quit school before getting the bicycle because I had to walk to school everyday, around 8kms round trip. Sometimes I got to school late, sometimes I had to miss school. Most of the time I felt tired when I got to school and couldn't concentrate on the lesson which impacted my school performance."
A new bicycle has made all the difference for Sreylim.
"I am very grateful to receive this bicycle. I promise I will not miss school any more. I will study hard to become a teacher so that I can contribute my knowledge to develop my community in the future."
In 2019, Lotus Pedals is planning to giveaway 420 bicycles to female students like Sreylim, starting with 50 bicycles to be distributed in March. Thanks to all the generous donors that make it possible to keep thousands of girls in school longer through Lotus Pedals!