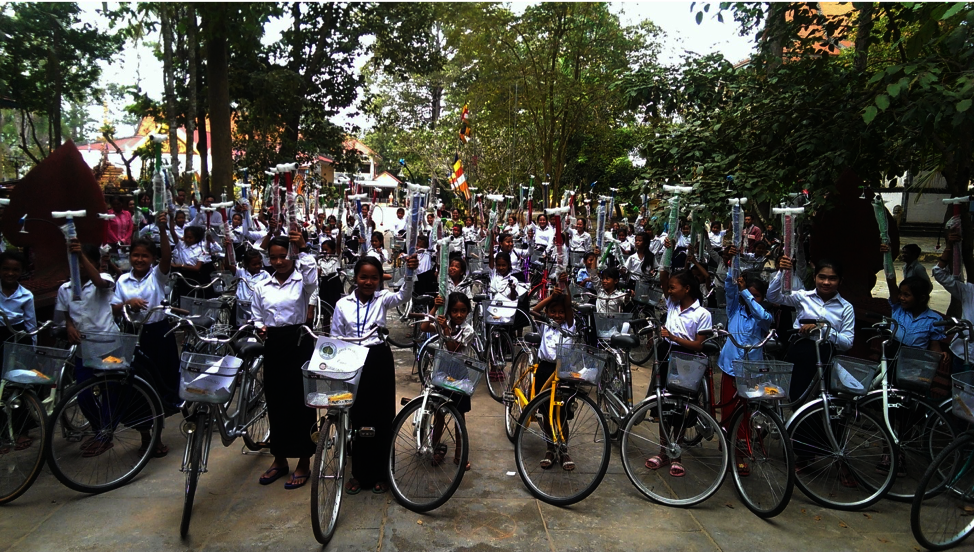 In 2018 Lotus Pedals plans on providing 328 bicycle packages to vulnerable girls in Cambodia to assist them in commuting to school. So far, the program has given 267 bike packages to girls in different locations such as Siem Reap Province, Pursat Province, Kampot Province, Svay Rieng Province, and Phnom Penh Capital City. Another 61 bicycle packages are going to be distributed in December to Battambang Province and Siem Reap Province.
Each bicycle package includes:
A Bicycle
A Pump
A Lock
A Repair Kit
The latest bicycle giveaway ceremony was held on November 15 at Svay Rieng Province, where 80 bicycle packages were distributed. These photos show the beaming faces of the new bike owners! A couple of the beneficiaries share their stories with us below.
Ravy is 15 years old, studying in 10th grade. She lives around 8kms from school. She was very excited and delighted to get a bicycle from the program. She recalled how difficult it was without a bike, "I used to ask my neighbor for a lift to school, but sometimes I had to miss some sessions as my neighbor's timetable is different from mine—her class starts at 8am whereas mine at 7am. Now that I have a bike, I will never ever be late for school again", Ravy said determined. Ravy aspires to be an English translator in the future.
Leak is 16 years old, studying in 11th grade. She lives around 10kms from school. When being asked if she has any difficulties getting to school, Leak responded, "I used to have a bike that broke down twice a week, so I was often late for school. This new bike is a precious gift that encourages me to study harder to become a teacher and I will not get to school late any more", Leak added.
Thank you for supporting Lotus Pedals riders like Ravy and Leak. It is with your help that these students are given hope.