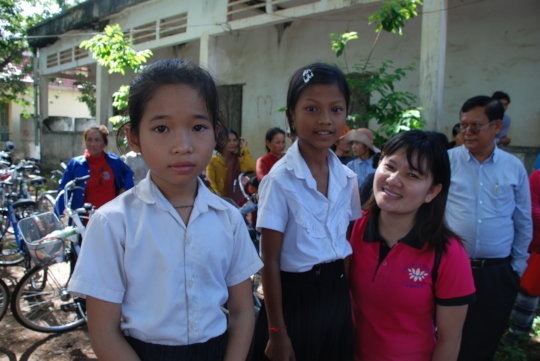 Lotus Pedals (LP) aims to increase access to education for economically vulnerable girls especially where distances between their places of residence and the nearest primary or secondary school causes a severe hindrance to their school attendance. The program seeks to improve attendance, academic performance and increase transition rates from primary to lower secondary school for girl children by providing them with a bicycle and repair kit. The bicycle sets are awarded based on selection criteria developed by Lotus Outreach Cambodia (LOCAM) in collaboration with various partners to ensure the neediest girls are prioritized.

On June 5, 2018 Lotus Pedals was able to give away 100 bicycles to underprivileged female students who are from 8 communes (No Rea, Krang Snay, Beung Nimol, Tromaeng, Chres, Baniev, Krang Sbov, and Tor Tung) of 3 districts (Chhouk, Chum Kiri, and Dang Tong) in Kampot Province. The event took place at Chhouk District Education Office with presence of 100 recipients and their parent/guardian, their school teachers, and the Executive Director of Lotus Outreach International.

Each recipient received a bicycle, a pump, a lock, a set of repair kit consisting of a set of double open-ended spanners (5 pieces), a hex key, a screwdriver and a set of puncture repair kit.

While recipients were leaving the event, I noticed one of the recipients standing outside the gate in the sun holding on to her bike, so I approached her and asked what she was doing there all by herself. She said she was waiting for her grandmother. And then she started to show me her feet and explained, 'look at my feet! I've been walking to school since I was in 1stgrade.' The girl's name is Oun, 16 years old and in grade 6. She lives with her grandmother about 3kms from school.

When being asked if she has siblings and about her parents, Oun sadly replied, 'I have two siblings but they are living with my mom in Kompong Som Province. I live with my grandmother in Kampot Province because I couldn't stand the torture my step father did to me.' Oun showed her fingers and continued, 'he broke my fingers.'

Living with her grandmother is not easy because she is old and doesn't have anything to do to support their livelihood beside rice farming, so Oun needs to help her grandmother growing rice when she is off from school. Despites how hard life is, she is doing pretty well at school. She ranks 5th in the class.

Thank YOU for making these Lotus Pedals bike scholarships possible!