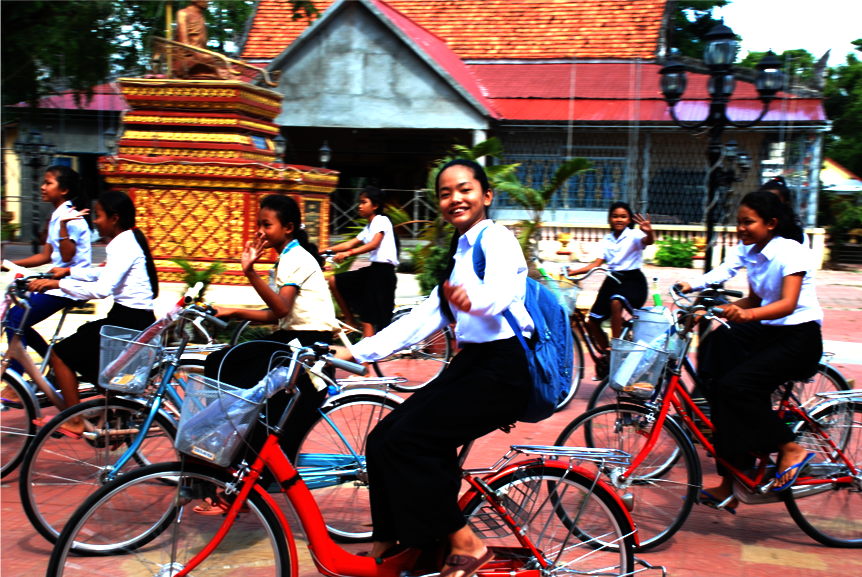 We assembled at Prey Chhlak Pagoda which is the home of the Buddhist social development organization, Santi Sena, one of Lotus Outreach Cambodia long term partners, to deliver 50 bicycles to children of the poorest of poor families that were identified by the department of social affairs and organized with assistance local school authorities in the target villages.
On this occasion there were also several orphans present who gave us the biggest waves and smiles of appreciation of any of the children receiving bikes on that day and which gave pause for a melting heart in my case. The orphans were not at all shy and withdrawn which could be the case given they are living in an orphanage without parents; rather they were radiant and filled with bright joy.
According to reports, poverty in Cambodia has been reduced considerably in the past 10 years, unfortunately 90% of Cambodia's poor remain in the rural areas and even small children have to travel great distances to primary school.
Getting to lower secondary schools is much tougher and only 36% of all girls enrolling at all and with a 20% drop out rate from classes 6-8. [1]
Although economic reasons are the top three reasons for school dropout, 75% said they needed to supplement income through household chores or domestic work. 33% of dropouts and parents/guardians cited school-related expenses as the main reason to drop out while 10% felt that distance was the main issue.
While the double-edged sword of needing to earn income to support family and the expense of schooling in Cambodia, Lotus Pedals has made it possible for more than 2500 children of these poor families to own a bicycle and which verifiably makes a huge difference to their attendance and ability to remain in school.
[1] https://www.unicef.org/infobycountry/cambodia_statistics.html