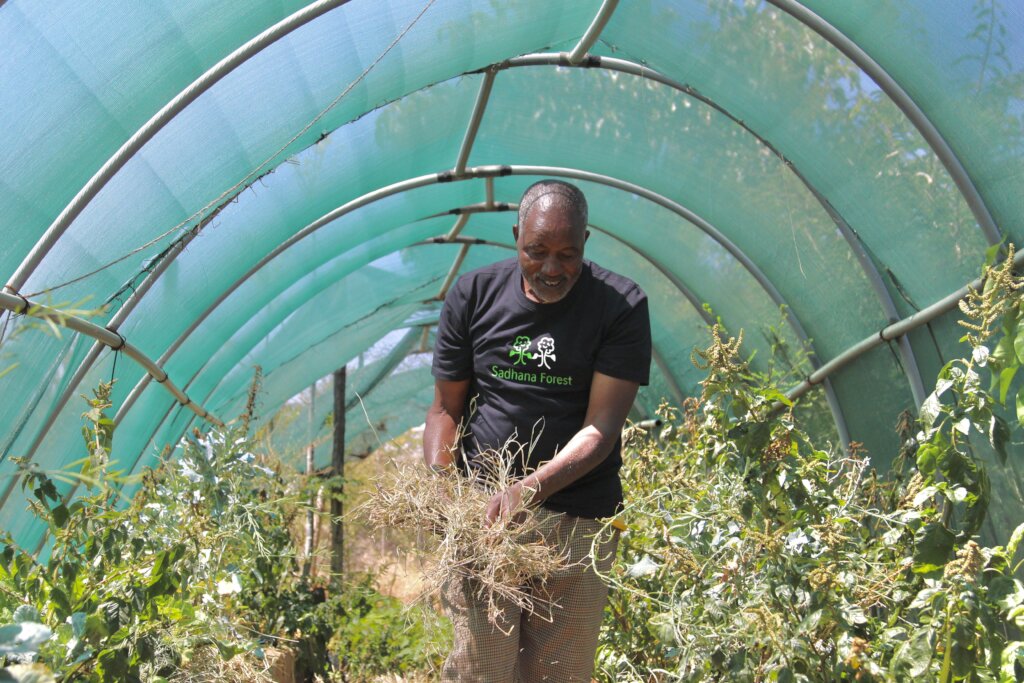 Recently, we had the pleasure of chatting with Sadhana Forest Kenya's Tree Nursery Manager and long time friend of Sadhana Forest, Joseph.
Tell me about yourself:
I'm from Lkichaki village and I am 65 years old—a member of the Lkiroro age-set (during adolescence all Samburu males are assigned to an age cohort in which they remain for the rest of their lives, ed.). I have a wife, seven children, and two grandchildren. Of my children one is a girl, six are boys, and they all attend (or have attended) school; their ages range from 10 to 26 years old.
What did you do before getting involved with Sadhana Forest?
I worked in many places far from home, mostly as a driver. I had to hustle for work because all my jobs were short term contracts. I drove for the Kenya Times delivering newspapers at night in Nairobi and I was a driver for the Christian Children's Fund, World Vision, and Arid Lands.
When I grew older and it was harder to find work and be so far from home, I came back to my home in Samburu where I thought I could have a small farm. I always wanted to plant trees, so when I came back to my land in the year 2000, I planted over 500 trees but almost all of them died. One tree that did survive, though, was a lemon tree. When Sadhana Forest Kenya first came to our area in 2014, my first connection with them was selling them lemons from that tree. Later, I joined them to help plant many of the trees that are now growing on their campus. In 2015 they offered a Permaculture Design Certificate course, hosting students from Samburu County and from all over the world, which I also enrolled in. I wanted to learn how I could plant food-bearing trees and help them survive in this climate. Here there is almost no water and with climate change it doesn't rain much anymore. I wanted to grow trees and also have a greater variety of food and fruit to eat—ones that we typically don't have here. Sadhana Forest teaches agroforestry with very little water and how to get trees to grow in a dry area like this.
Tell me about a typical day here:
I now manage the tree nurseries and the vegetable gardens at Sadhana Forest Kenya. I plant tree seeds as well as vegetables, and care for the tree seedlings that are waiting to be planted out in the community. I weed the nurseries and water them. I also take care of the experimental moveable shade nurseries.
A big task that I have is protecting the nurseries, trees, and plants from baboons. Because of the drought, the baboons often try to break into the nurseries, destroying the structures and eating many of the trees and plants. But the baboons also helped me discover how to propagate more pomegranate trees! One day when they ripped fruits and many branches off some of the exposed pomegranate trees around the nurseries, I collected the branches and planted them like cuttings. They grew into beautiful pomegranate seedlings and are now being planted at homes in the community!
What has Sadhana Forest changed about your life?
For me personally, my work at Sadhana Forest has allowed me to sustainably provide for my family in my old age. It is the first work I have had close to home where I can live within my own community. I commute by walking every morning and evening, which is also good for my health. Sadhana Forest is really doing a great job in the community. The trees are giving us shade, food, fruit, and medicine - like the Moringa tree that improves health through better nutrition. People are learning about trees—they now know the importance of not cutting them down. We don't get much rain anymore because of climate change, otherwise maybe we would have even more trees around. We can no longer do agriculture the way we have in the past and all our livestock is dying because of repeated droughts. Sadhana Forest provides a way for families to support themselves. Adopting the Sadhana Forest method helps us to develop and progress.
Is there anything else you would like to add?
I say to Sadhana Forest: Thank you, we love you, and we need you to stay here forever and ever.

Thank you, Joseph, for those kind words and for being such an important and passionate supporter of Sadhana Forest Kenya! And thank you to all of our donors, volunteers, and GlobalGiving. If you would like to provide feedback, learn more about our projects, or if you are interested in volunteering with us, please email us at kenya@sadhanaforest.org.
Ashe Oleng! ("Thank you very much!" in Kisamburu)