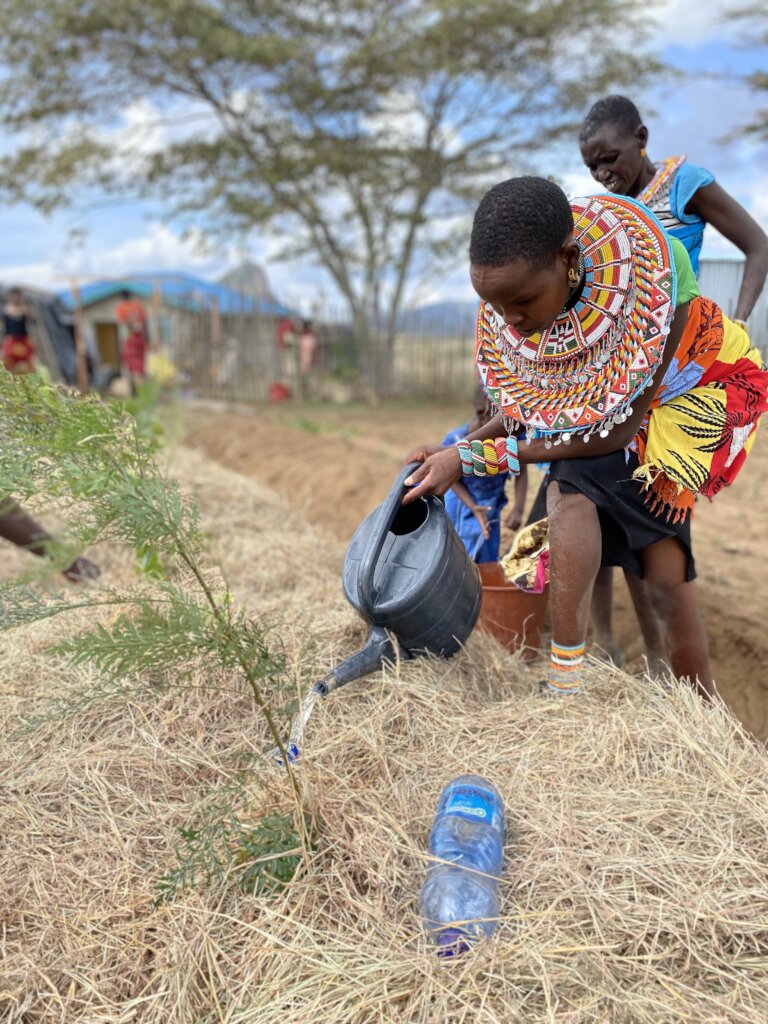 We are very happy to report that as covid-19 restrictions are easing, we are able to resume our larger outreach programs. For example, at one local school in nearby Lodokejek area, the senior students have been actively caring for close to 50 trees on their school's grounds. They have chosen it as their goal to create their own tree nursery, expand the tree planting, and turn the bare grounds into a forest. It is inspiring to work with such enterprising and determined young people.
Recently, we have also started a collaboration with a women's jewellery-making collective in a neighbouring village called Naiborkeju. Now that they've seen their business generate income and transform their lives, they want to transform their environment as well. Their goal is to grow their own food and create a more habitable and nourishing place to live, work, raise their families, and thrive. In doing so, they will be more self-reliant and less dependent on government and foreign aid. This is yet another inspiring example of hard-working people who want the best for their home. We are so excited to support these groups every step of the way with their ambitious and important projects.
Although the last few months we have faced continued drought with tree-nibbling elephants, we know it will get better. We are seeing weather forecasts of at least average levels of precipitation on the way. It will take several of such seasons to fully recover from the drought's damage, but it will bring relief to people, vegetation, and wildlife. It also means the local elephants will have more sources of food! Fortunately, they haven't caused much damage to the trees we planted, and those trees that were "trimmed" will grow back stronger. In the meantime, we are so grateful to have such a high-capacity water truck. It has allowed us to continue planting trees and delivering water in these times of severe drought – it is a lifesaver!
Thank you to all of our volunteers, donors, and everyone who supports us in any way. Thank you to GlobalGiving for this platform on which to reach you all! As always, if you are interested in providing feedback concerning our project, learning more about our activities/operations, or would like to volunteer with us, please email us at kenya@sadhanaforest.org. There is also an opportunity to provide feedback at the end of this report.
Ashe Oleng! ("Thank you very much!" in Kisamburu)