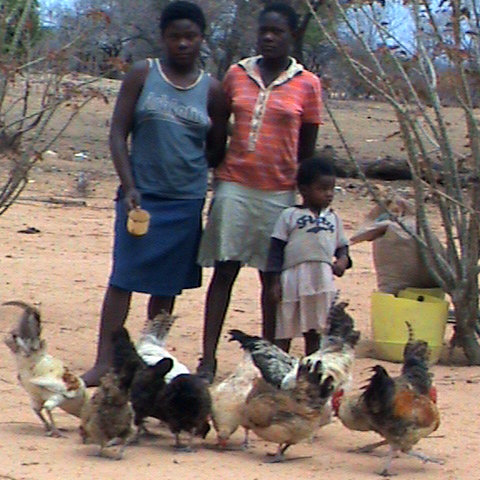 Daisy is a 72 year old guardian looking after three prhaned girls in Maphane, Zimbabwe. The girls are Sinethemba, aged fifteen, Sihle, aged fourteen and Tholakele, aged three. About a year ago, AFCA, thanks to YOUR generosity, gave this family four hens and one rooster as part of our Livelihoods Project. They so desperately needed an income generator and when given the opportunity to be trained in animal husbandry and to start their own chicken flock, they jumped at the chance.
Since then Daisy says they have watched in amazement as the chicken project blossomed to give a hopeless family hope and restored pride. "When my son died, the situation was very bad for me and my grandchildren. We felt like the world had turned against us and that everyone hated us. We struggled to get food; at most we would eat once a day and I saw my grand children's lives deteriorating at a very alarming rate. I could see sadness in their faces. Then one day, a local Pastor told us that the area committee had selected our family so that we could start a chicken project! Our lives have been changed by this project. At the darkest point of our lives, we came to the realization that there are some people out there who still love us. The chickens have multiplied rapidly. At one point, we had twenty five mature chickens. As required by the project, we have given back four hens and one rooster so that another family can start the chicken project and that was a really good feeling - to be able to help someone else. We have sold more than eight chickens so as to pay school fees for the girls and to buy them uniforms. We are eating eggs during our breakfast and the children enjoy them. We are also eating eggs as side dishses and these days, we can even afford three meals a day. We are using manure from the chickens in our plots and the crops are responding well. This is such an amazing gift!"
Really, friends, this is because of YOU. You were generous and you changed lives. Thank you!
On an aside:
I am excited to announce that Microsoft will be making a 100% match to this specific project on June 25, 2014, starting at 12:00PM EDT and ending on June 26, 2014 11:59AM EDT (24 hours). There are only $200,000 available in matching funds, and last year, the funds ran out in the first couple of hours. If you'd like to support our project again, this is the perfect day and time to do so. Please mark your calendar and consider giving to this project on that day. You'll double your help to our children! Please share with friends, as there is a $2500 bonus prize for the project with the most unique donors, which we'd love to receive!