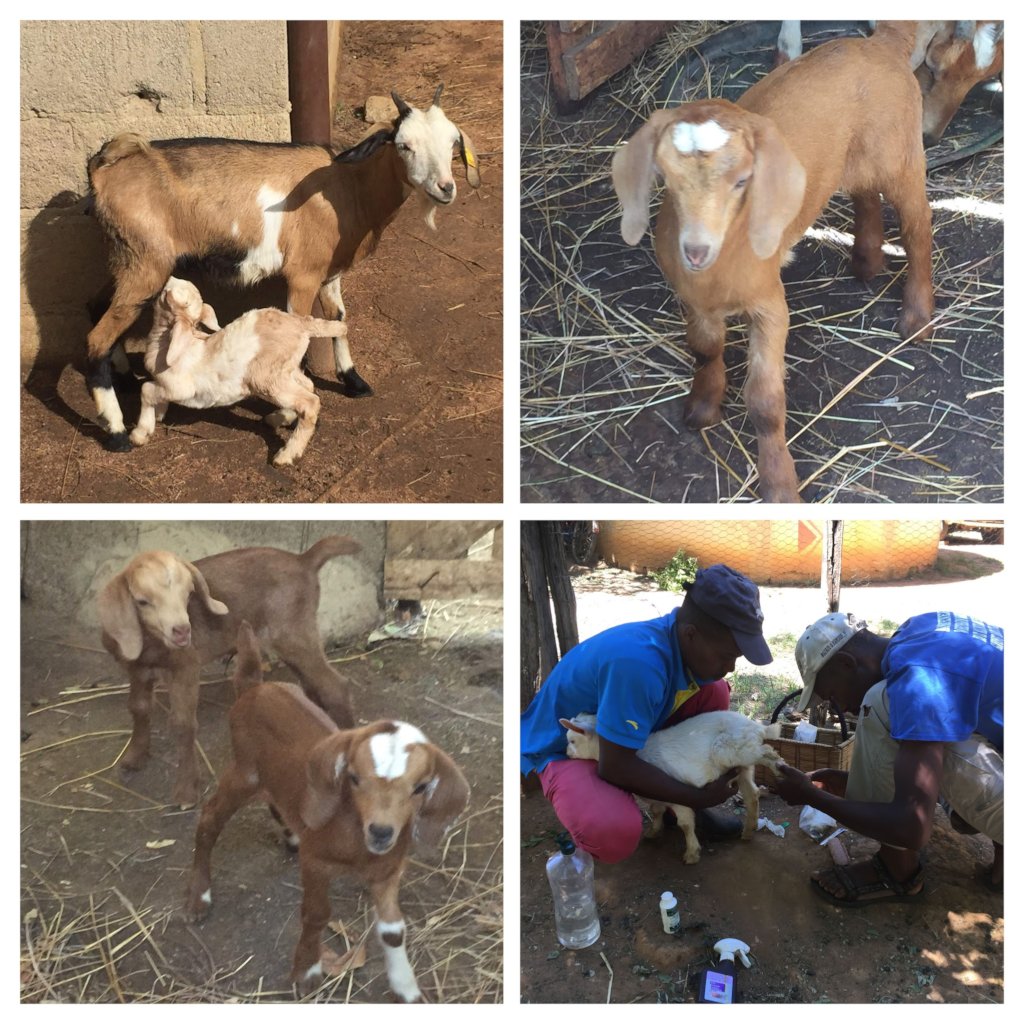 This is the season we watch carefully for the Flame Lily flowers. They are not prolific in our area and when we sight them we quickly tell others where to see them. The Flame Lily is our National flower, which also makes them special in our eyes.
After the excitement and relief of the first rains, we have received little more. If we don't receive more very soon many crops already in the ground in our area will die, causing more hunger and external dependency for this year. A friend living in Austria who assists in many projects in our area contacted us recently and asked if people were already needing help. We told him about the rain and crop situation and he immediately stepped up and sent food to help the most vulnerable in the area. Several of our AFCA beneficiaries were on the list and in dire need of assistance. We were blessed to be able to help them with the gift of corn meal and a few other food items.
Our kids are growing up quickly and will soon be ready to wean. Always a hard time for them as they will be separated from their mothers for at least 6 weeks until the mums milk dries up and the kids can rejoin the herd. Right now they are only separated at nights and spend the days with the herd when they can drink. This is the time when we can see which of the does are good milk suppliers and we decide which buck we put them with for their next pregnancy. The good milkers will be matched to Fred, the Saanen buck who is our dairy buck, and the others will be matched to Bruce, the Kalahari buck who is a good meat producing goat. When we send does to beneficiaries we try to send a mix of both dairy and meat goats.
Our last kid to be born in 2019 was Gus, son of Clover. Gus was her first born and is a tough little character who complains loudly when he cannot see his friends, who are a little bigger, more nimble and faster than him! Every day the herd is checked for any health problems and are attended to where necessary. Both the guys have been to several workshops where they have learnt about illnesses, correct goat nutrition and how to make supplementary feeds from the available plants in their areas.
In the last month we have had a quieter time and were able to take more walks around the ranch and visit a few of our neighbors. We also had a few visitors who took advantage of the climbing routes amongst the rocks. It looks like it is going to be another hard year for the community with the continuing struggle for water for gardens and crops. Even drinking water is likely to be a serious problem. Our beneficiaries at least have water filters which are still working well. However, this community are amazing in how they live with expectations and dreams of their situations improving. If there is a word that I always think applies to people living with hardship, it is Hope. Hope that there will be food for the day, money for school fees, an improvement in their day to day existence. Life is so hard but whenever we visit people there is a welcoming smile. Their lives are a lesson to us to be grateful for the little things we take for granted: a teaspoon of sugar, a slice of bread, clean water in our cup and a bed to lie in at night under a roof that does not leak. Until next time when we HOPE to report a miraculous weather change that will supply our community with enough water to take us though to the next rainy season! Be blessed!
The team here at the American Foundation for Children with AIDS thanks you for supporting this project and the work we do for the children in Africa. As you start to make decisions regarding your giving for the new year, please keep us in mind so we can continue our good work into 2020 and beyond. We wish you a new year full of many blessings and as much hope as you have shared with us. If you would like to learn even more about what we do or how you can meet some of the children you have helped, please contact Tanya Weaver at tweaver@AFCAids.org.