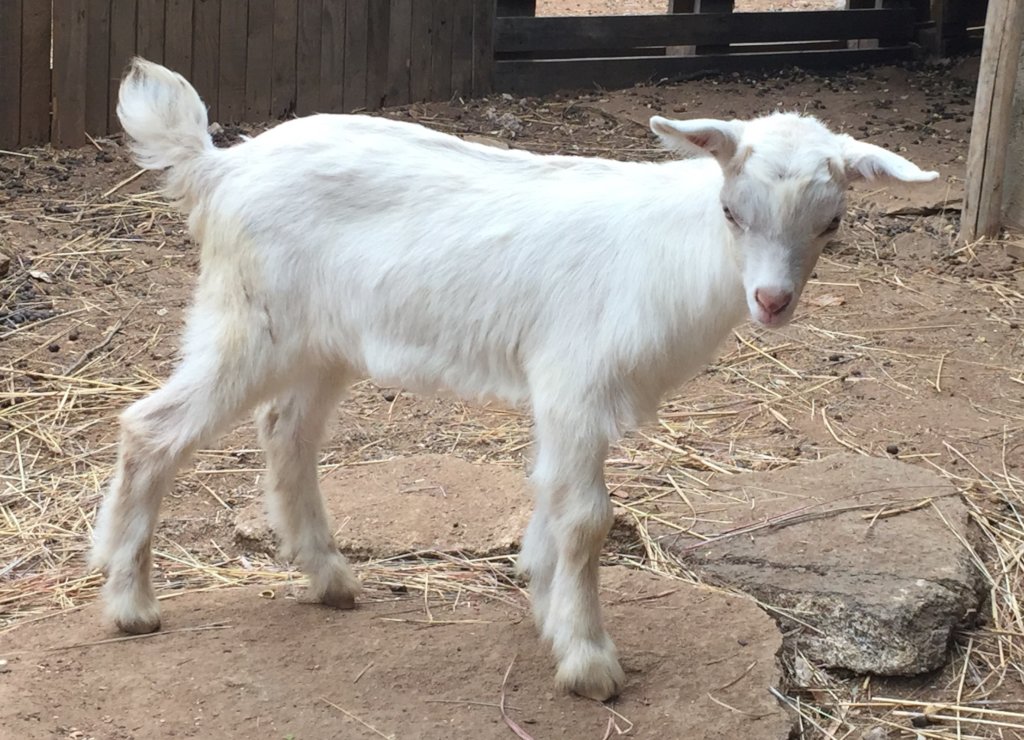 Although we still have had no rain and plants and trees are looking stressed, the Jacarandas still show their beauty around the city and bring smiles to stressed faces.
We have 5 new babies! Not all have names yet but that will change shortly, either when we get sponsors or when we find fitting names for them, as it is very confusing having babies running around with no names!
The drought and lack of good browsing is having an effect on some of our pregnant does, especially our 'first-timers'. A few of our older goats and the feeding mamas are struggling to maintain good condition. We have lost several babies who were born premature and even aborting half-way through their pregnancy. Reports have been made to us that this has also been happening within the community. On a trip to town this week I called in to consult our vet about this problem and he recommended some mineral and vitamin supplements but assured me that we were not the only one experiencing this at the moment. He also puts it down to the extreme heat and dryness of vegetation. We have purchased a lot more supplement to help them get through to the rains and new growth
One of our latest beneficiaries is Elaine, let me introduce you. Elaine is a widow whose husband died of AIDS, leaving her with 4 children to bring up and educate. Her father is a local village head. She is fortunate in the fact that they all live in their own homesteads, and the homesteads are very close, making it safer for Elaine, a single parent, to have her own home while enjoying the security of family close by. They are a very poor family and work their small gardens for food and to sell if they have extra. I met Elaine some 11 years ago when she and a group of other ladies who had AIDS visited me and asked for help with food. I was not in a position to give hand outs but suggested we look at what skills they had or would like to learn. And so birthed the little Craft Group that meets at Morning Star regularly. The club is made up of 8 ladies who have various skills. One or two knit and crochet well while the others are better with sewing projects. We have been able to make a steady but small additional income that has helped the ladies pay school fees for their children and buy groceries.
Elaine is a very strong character and a GREAT dancer! Life is especially hard for woman alone in Africa. Although she lives close to family, quite a few of the family are AIDS sufferers as well and not strong. She has been busy constructing a new home almost entirely on her own, with a little help from her father and brother. It's a start but there is lots still to do. When we delivered her goats, they were all close to giving birth. After a week we received a panicked message to say they had run away. The word was put out in the neighborhood that there were lost goats and to our delight after a few days they were reported to be about 5 miles from their new home. Diamond and Thando went out and collected them and redelivered to Elaine, who was so very happy! Although she was happy to get them home, over the next couple of weeks they all either lost their babies or aborted. Desperately looking for reasons why this should have happened, we put it down to the stress of being lost and travelling so far before being found. We have no idea what experiences they may have gone through. We will collect them all as soon as the rains start and have our bucks cover them again.
Everyone here at the American Foundation for Children with AIDS, and our partners in Africa. thank you for your continued support of this important project. If you would like to learn even more about this project and others, please contact Tanya Weaver at tweaver@AFCAids.org.