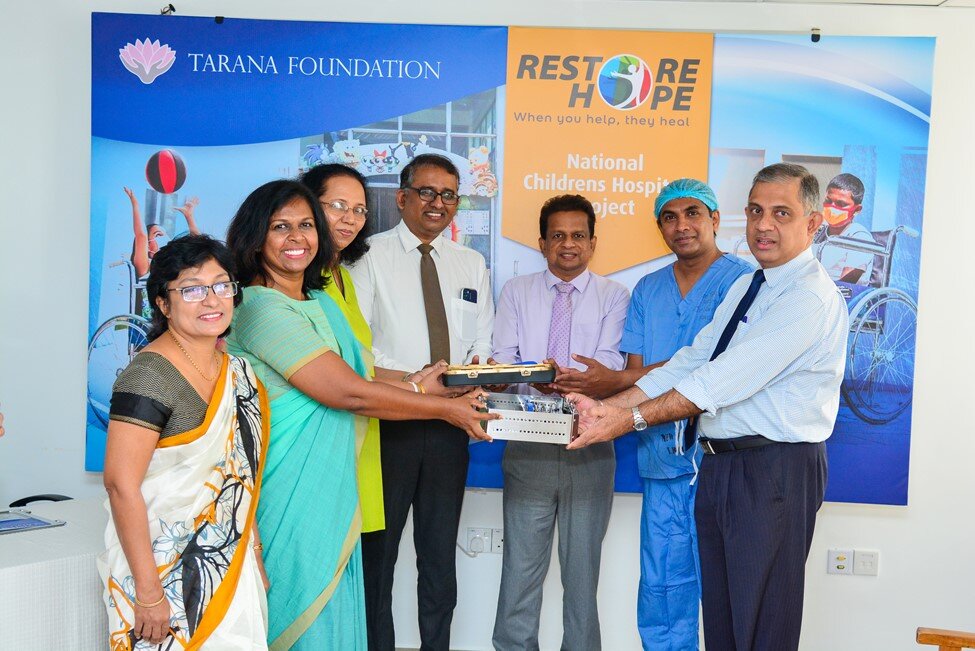 Project Updates
Tarana Foundation donated over Rs. 4.6 million Orthopaedic Surgical & Medical Equipment for the Lady Ridgeway Hospital Operating Theatre on 15 March 2022. With this donation, children Island wide under the age of 16 years having orthopaedic disorders will have a greater relief of corrective surgery and treatment. The majority of children who are brought for treatment are from low socio-economic backgrounds as their families are unable to afford the implants that are needed.
The children coming to LRH are with various orthopaedic complications and deformities from birth and trauma from accidents. On average 85,000 children are admitted annually with another 645,000 children treated as out patients. The Hospital's subspecialty unit of Paediatric Orthopaedic and Trauma Surgery Theatre is urgently in need of equipment to perform the full spectrum of paediatric orthopaedic surgery and treatment.
At a media conference held on 15 march at the Operation Theatre Conference Room, Suranjani Wickremeratne, Chairperson, Tarana Foundation and Co-Chair of the Restore Hope project Ann Amaratunga handed over the equipment and implants to the officials. The event was participated by the Director of the Lady Ridgeway Hospital Dr. G. Wijesuriya, Dr. Sunil Wijesinghe Consultant Paediatric Orthopaedic Surgeon, Dr. Dimuthu Tennakoon, Consultant Paediatric Orthopaedic Surgeon, Dr. Nirmal Marasinghe Consultant Orthopaedic Surgeon- Spine and Dr. Savithri Dharmarathne Medical Officer Planning and Tarana Foundation volunteers.
Main objective of the Restore Hope project is to provide essential equipment and tools to the Lady Ridgeway Hospital Orthopaedic Unit Operating Theatre. This endeavour will benefit thousands of children coming from across the island who are on long waiting lists. The project target was to raise Rs. 22 million initially. The first phase of the project successfully secured essential surgical equipment and instruments which consists mostly of implants.
Suranjani Wickremeratne, Chairperson, Tarana Foundation explained that the Tarana Foundation set up in 2018 as a charity is supported by a group of volunteers focusing on supporting rural communities, mainly rural children with their needs. She said that Rs 4.6 million was raised during the first phase from local and overseas donations and thanked all the donors who supported saying that every rupee collected has been utilized to support the project.
The project Co-Chair of the Restore Hope, Ann Amaratunga explained how the project was conceived after a personal encounter with the LRH when she took her daughter after taking her to many other hospitals. She said that this is not something that can be done individually and that everyone needs to help the Hospital so that thousands of children can have corrective surgery for a brighter future for them and their families. She appealed to the media to carry the message across so that others who wish to support can either make a donation to Tarana or directly provide the required equipment to the Hospital.
LRH doctors thanked the project in their speeches and explained that most of the corrective surgery needs to be done at an early stage to make them independent, otherwise the impact can be lifelong and appreciated the initiative taken by the Tarana Foundation to help the LRH with valuable implants and tools for the newly built Orthopaedic Surgery.
The project helps those children who are from low socio economic families having complicated orthopaedic issues to be cured from their deformities and disorders to lead normal lives.
We thank you greatly for donations.