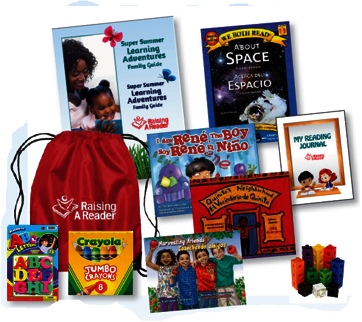 Raising A Reader Beats the Summer Slide.
Thanks to support like yours, we helped bring Raising A Reader to 150,000 children and families across 36 states during the school year. Our programs help young children prepare for kindergarten and become proficient readers by 3rd grade.
School is out and incidences of COVID-19 are once again on the rise. Children ages 0-5, like those we serve, are still not eligible for vaccination. Studies show that language development among infants and toddlers has been negatively impacted during the pandemic and that PreK and Kindergarten enrollment is also down. Now more than ever, children from low-income families like those we serve need fun, effective early learning opportunties over the summer.
To that end, Raising A Reader developed Super Summer Learning Adventures (SSLA) during the pandemic to activate summer learning, address pandemic related learning loss, and provide children with diverse high quality bilingual books they can keep. We include an interactive 6-week bilingual family guide with Common Core aligned daily strategies and activities to faciltate learning and a QR code to capture impact. All of our SSLA materials and resources are bilingual (English and Spanish). Studies show that when English Language Learners have the ability to read in their native language, dual language capacity improves.
We stand firm in our unwavering commitment to equity, diversity, inclusion, and improving the lives of children in all communities across the United States. It is our belief that strengthening families and early literacy can be a cornerstone in creating equity and opportunity for all.
We are so grateful for your support.
Your Friends at Raising A Reader


Links: