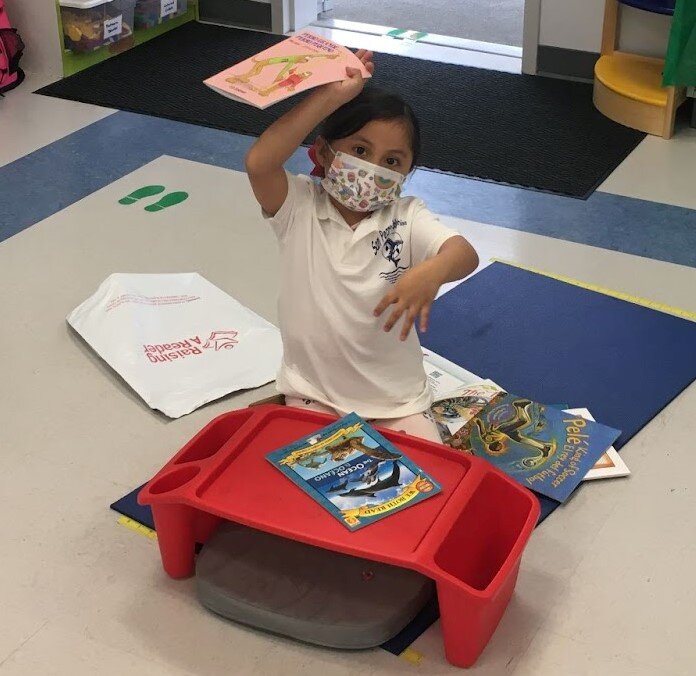 Children are back at school!
Thanks to your support, Raising A Reader helped ease that transition for 150,000 children across the nation in 36 states! We are now reaching 15% more children and families across the US. All year long, children and caring adults read together with support from Raising A Reader. Our evidence-based programs help build healthy brains, strengthen relationships, and build the literacy skills to be ready for kindergarten and reading by 3rd grade. Building on the strength of our Classic Red Book Bag Rotation model, we rolled out two new programs to help families build home libraries and establish at home reading routines, Super Summer Learning Adventures and Family Shared Reading. These programs helped families build at home libraries, activate summer learning and reinforce shared literacy routines. Along with carefully selected bilingual books, we included a bilingual guide in English and Spanish with weekly exercises, activities and tips for reading with children ages 0-8. We are excited to share that Family Shared Reading was just selected as a 2021 Library of Congress Best Practice Honoree.
Here are some of the testimonials we have received this year:
"My husband passed away due to COVID and having the constant routine of opening the red book bags to escape into books offered my daughter and I a way to process and heal emotions."
"We look forward to the RAR book bags and stories, as reading the books with my children has helped with some of the deep emotions, we as a family are feeling now."
"Reading gives us a chance to end the day in an emotionally safe way, no matter what is going on in our world."
Across the nation, over 80% of children from low-income backgrounds are not ready for kindergarten, one of the greatest predictors of later school success. Over 80% of the families we serve are struggling to make ends meet and your support really makes a difference. Raising A Reader takes a village!
Throughout the pandemic we worked closely with our 285 Affiliates to safely implement RAR programs at nearly 3,000 local sites and developed 11 new Affiliate partnerships including the addition of Tribal Child Care. We continue to support them in helping their families in crisis during this difficult time, through monthly virtual Town Halls and our new social emotional curriculum for having age-appropriate conversations about sensitive topics.
We know that children across the nation do not have a level playing field. To that end, we have activated a Race Equity Agenda that provides us with a roadmap to ensure children of all races, socioeconomic backgrounds, and geographies have access to Raising A Reader. We recently conducted an audit of our book collection of over 3,000 titles with selections in 13 languages. We are making sure that our titles reflect the lived experiences of the populations we serve.
Your support has never been more critical if we are to stem learning loss and reach children who need it most with a program that gets results, is easy to implement and easy to scale. We thank you for your past support. With your continued support,Raising A Reader again this year and help us meet our goal of reaching 200,000vulnerable children and families by 2022.
Links: