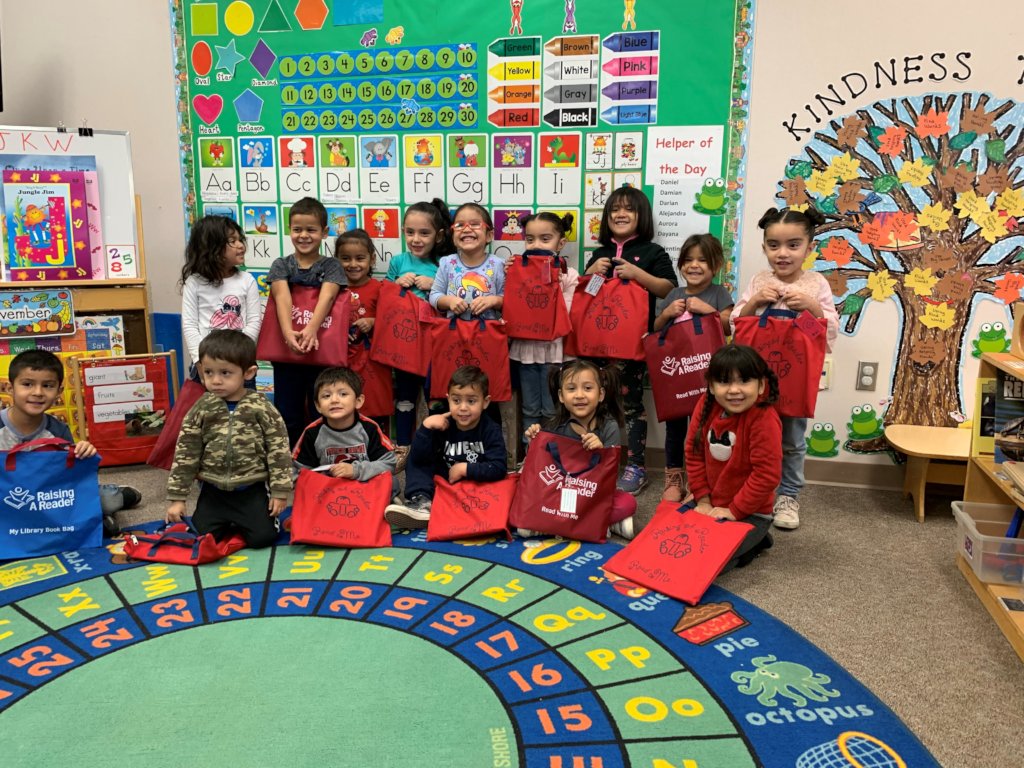 Thank you for your generous support of Raising A Reader through 2018 and beyond! Your support funds the critical work of bringing our evidence-based early childhood literacy program to those children that need it most. We are truly grateful for your commitment and the transformative culture of literacy you make possible for these children.
Your gift is placing high-quality books into homes where there are none; bringing vital knowledge to parents through workshops; and providing training on how to engage families to the educators in our already under-resourced schools. In 2018, we served more than 137,000 children, nearly 20,000 more than in 2017! We expanded and launched in many new sites across the country including Bismarck, North Dakota, Oklahoma City, Oklahoma, Solano and Coachella, California to name a few. We also began a $1 million expansion in the State of Maryland. As we celebrate our 20th year of program implementation, we are poised to continue to help children develop, practice, and maintain the reading habits they need for healthy brain development, language and comprehension that will lead to life-long academic success.
Each story of success is your celebration, too! Here is a note from one of our hard-working, dedicated teachers on the front lines of our program:
"I find Raising A Reader makes a significant impact on our young readers. The texts are teeming with insightful information, the children and parents appreciate the opportunity of rotating reading material and the diversity with respect to culture that's found in the book selections. Children are excited about taking books home to read on a regular basis."
In the United States, we are losing 7 out of 10 children by 4th grade each year because they can not read. This leads them to struggle through middle-school and each one of these 7 children is 4 times more likely to drop out of high school. Raising A Reader fights this trend, providing our proven program through more than 290 providers across 3,000 sites across the country in 36 states. We provide the books that do not exist in 60 percent of the 16 million homes of the children that live in poverty in our country. And we also provide the training that empowers parents and caregivers no matter their own reading level to be their child's first teacher. In our 20 years, we have served nearly 2 million children and familes thanks to supporters, like you, and our implementing partners.
On behalf of our entire team, thank you for investing in this very important mission. With your generous gift, we are changing children's lives one book at a time!
Links: