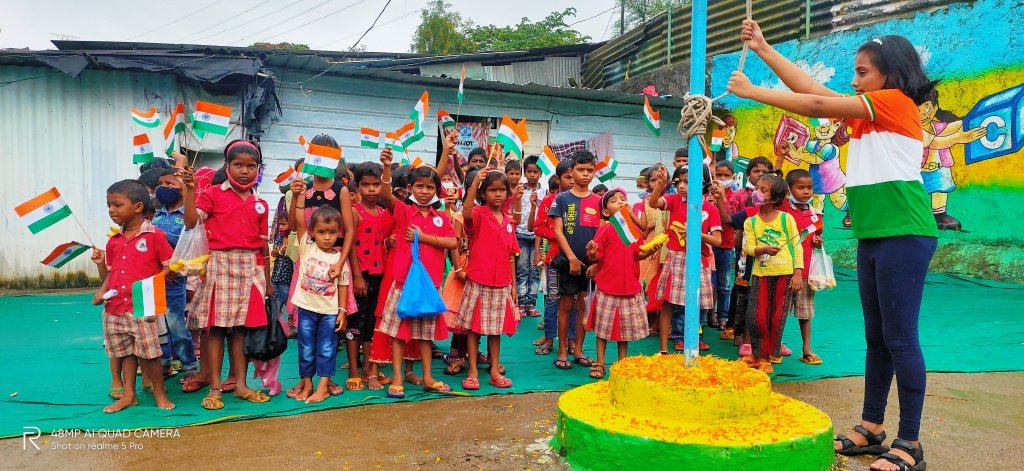 Season's Greetings to all our Donors from Freedom4U, your 'trusted partner & Change-maker in the world'.
Amidst extended lockdowns, Freedom For You Foundation continues to cater to the tiny tots, mainly from the rag picker/daily labor families, at their homes with supply of 2 weeks requirement of healthy breakfast Kellog's BF cereal/snacviz., twice a month. This we have been doing since the start of first lockdown end March 2020. We are also monitoring the health of the tiny-tots of late, concerned with the fact that we cannot see them regularly due to social distancing and other Covid appropriate behavior.
Now we started monthly physical & health check-ups/health investigation camps with the help of Doctor/nurses in batches of 15-20 children since last fortnight, to identify progress of our regular children and also potential candidates between 2 & 3 years who would be joining our school no sooner than it opens for admission, after lifting of lockdown imposed by the govt.
It is heartening to know our kids are "doing well" as per Doctor's findings. Amongst the potential candidates, we have spotted a few malnourished children between 1.8 years & 3 years, who have been recommended for a special diet with additional nutritional supplements, which we will be commencing from Sept 2nd week onwards.
Our Children celebrated Independence Day on Aug 15, 2021 by adopting Covid appropriate behavior norms. They were given fruits and gift hampers. Our Chief Guest for hoiting the Indian Flag was a 10 year old Child Ms Ananya who voluntarily donated her tresses of long hair, in June 2021, for the CAUSE of helping Cancer KIDS, for raising funds for their well being. She has determined to donate another 4/5 times also as and when the hair grows long, in the next 5 years. It is our Honour to felicitate such Children who are caring and compassionate to the community around them. Every one in the slum area near our Rabale Play school, appreciated this Child Ananya's gesture and her upbringing, and thanked her parents for inculcating good habits and actions in this child.
We are happy to inform you that GlobalGiving has awarded Freedom4U the following new prestigious badges in Jan 2021:
SITE-VISIT VERIFIED ORGANIZATION-2021
VETTED ORGANIZATION-2021
This exemplary achievement as a mark of 'celebration of our continued service to the under-privileged/under-served children during 2020-21', a few non-profits have been fortunate to receive these 'SEAL-of-Approval'. This gives more COMFORT to our DONORS like you, that your hard-earned money is well-spent on the CAUSE close to your Heart through Freedom4U, your 'Trusted Partner and Change-maker in the World'
During these lock-down times, Freedom4U has been mobilizing donor-funds and raising funds thru crowd-funding/CSR for enhancing the medical infrastructure in over 25 hospitals run by Government, Trusts etc by donating Ventilators, BiPap, Nebulizers, O2 Concentrators, Patient Beds, HRCT Equipment etc for timely and effective treatment of Covid patients. Now we have started FREE Mass Vaccination camps in various locations and have till date completed over 3500 nos of vaccination of super-spreaders viz., Maids, drivers, vegetable/fruit vendors, construction/factory workers in addition to PWDs, orphaned senior citizens etc.
In addition, we are already planning to vaccinate over 8000 under-privileged persons in the next one month, funded through CSR of leading MNCs. This is the only way we can break the spread of Covid virus in the expected 3rd wave, widely reported to be coming in Sept/Oct 2021.
We are distributing safety/wellness kits to Transgenders and truck drivers to help them tide over the present crisis caused by Covid lockdown.
Freedom For You Foundation was felicitated by Mira Bhyander Municipal Corporation commissioner last fortnight for enhancing the medical infrastructure in their designated Covid centres for fighting Covid. We had donated over 75 Patient Beds, Ventilators and 100 nos of Nebulizers.
Our Humble Appeal....... from team Freedom For You Foundation !!
Your act of giving would TOUCH the lives of these marginalized tiny-tots and help us provide all-round development in them.
We URGE YOU to contribute smaller amounts in recurring monthly donations & this would go a long way to meeting the ever increasing operating costs.
Freedom4U requests you to be our 'Champion' and spread our CAUSE with your like-minded friends and relatives too.
Your contributions for this noble project can be made here. Please do click on this link to TOUCH the lives of these tiny-tots and bring 'light in the lives of these marginalized children'.
Every contribution, big or small is very important to us.
Your generous support &continued cooperation in this academic year, would go a long way in the lives of these tiny-tots