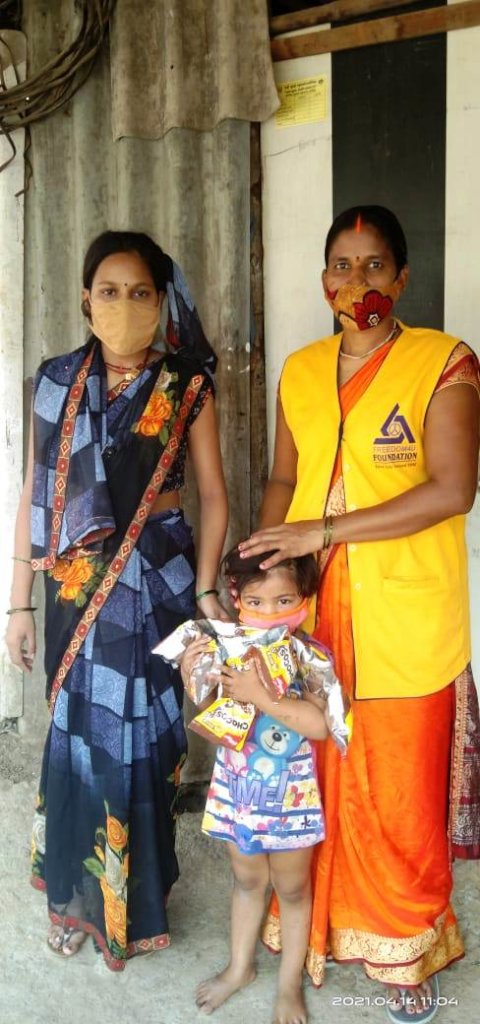 Hope this finds you all in good health, and wish you all a vaccinated and safe year 2021
The second wave we are facing in India is the worst in the world, and Mumbai and a few other cities are affected very badly. The entire education system for schools and colleges are at a stand still last 14 months.
Life at the bottom-of-the-pyramid continues to be difficult to make ends meet. Daily labor and rag-pickers and LGBTQ community are affected in the current second wave of Covid Pandemic lockdown last 3 weeks, and now lockdown has been further extended by 15 days till May 15, 2021 in capital city Mumbai and rest of state of Maharashtra.
Our NGO Freedom4U has taken up the task of helping the tiny-tots get good healthy breakfast by serving 15 days requirement of breakfast cereals, Kellogg's chocos etc and reaching it to each and every child at their home.
We are paying the salary of the staff, which cannot be avoided despite the school not functioning at all since March 2020 and all other fixed cost in maintenance of the play school, power bill, etc
We are utilizing the class room space for helping poor marginalized women folks in the family of our wards to earn a livelihood by teaching them tailoring whenever the lockdown was lifted during the last year.
We utilized the play school space for conducting useful programs on personal and menstrual health programs for adolescent girl children and middle aged women in the slums. We organized a few sessions on "Make-your-own-pads" by teaching them stitch and make 'washable and reusable' sanitary pads made out of cotton cloth. This was a grand success, organized jointly with a local Rotary Club.
Now we are providing health workers, frontline warriors, 2-ply cloth masks made by our past students who had attended tailoring classes and dress designing classes in the last few years, thus making them earn a little livelihood by stitching cloth masks.
During the entire year last year Freedom4U helped the migrant labourers, LQBTQ, Rag Pickers etc and distributed 8960 dry ration kits to such families in over 90 km radius. Besides Freedom4U helped fromtline warriors, health care workers by giving them over 10000 safety kits, masks, PPE kits etc Over 15 hospitals were helped by donating Life saving equioment for treatment of Covid patients. Rotary International Dist 3141 felicitated our CEO Dr Ravi S Kumar with a Vocational Service Award for Excellence in Community Outreach programs in Jan 2021.
Our Humble Appeal....... from team Freedom For You Foundation !!
Your act of giving would TOUCH the lives of these children and help us provide all-round development in them.
We URGE YOU to contribute smaller amounts in recurring monthly donations& this would go a long way to meeting the ever increasing operating costs.
Freedom For You requests you to be our 'Champion' and spread our CAUSE with your like-minded friends and relatives too.
Your contributions for this noble project can be made here. Please do click on this link to TOUCH the lives of these tiny-tots and bring 'light in the lives of these marginalized children'.
Every contribution, big or small is very important to us.
Your generous support &continued cooperation in this pandemic year, would go a long way in the lives of these tiny-tots, in getting good health and vigour