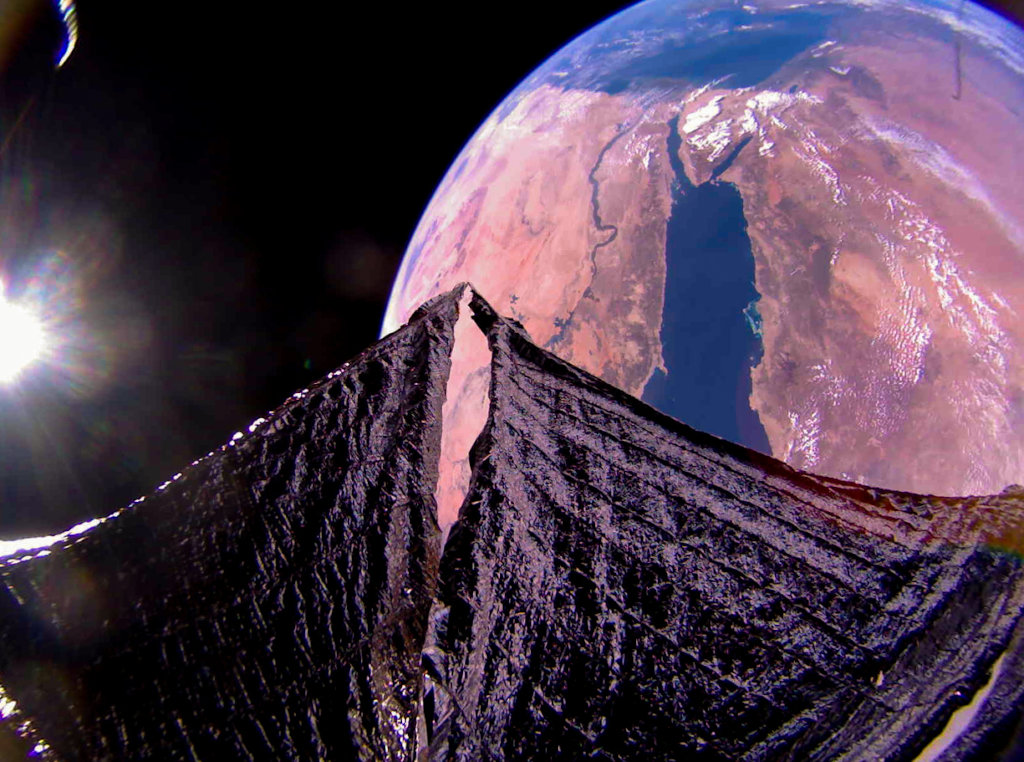 Two years after launching into Earth orbit aboard a SpaceX Falcon Heavy rocket, LightSail 2 is still solar sailing. The spacecraft has completed its first year of extended operations and is still healthy.
We can't say for sure when LightSail 2 will reenter Earth's atmosphere. Its average altitude has only dropped about 20 kilometers since the start of the mission in 2019. Below-average Sun activity has kept Earth's upper atmosphere calm, creating less drag on the sail. The spacecraft also offsets the drag with the thrust gained by solar sailing.
We plan to operate LightSail 2 as long as possible in order to learn more about solar sailing and solar sail spacecraft operations. We also want to continue raising the profile of solar sailing by sharing the excitement of the mission with the public, while documenting our results to ensure the strongest possible legacy for the LightSail program.
Here are some of our goals for LightSail 2's ongoing extended mission, along with updates on what we've learned.
Improve solar sailing performance as much as possible

As LightSail 2 dips lower and lower into Earth's atmosphere and the sail itself degrades, improving the spacecraft's performance will only get more difficult.
We monitor daily the decay rate of our average orbital altitude, which is affected by the efficiency of solar sailing versus atmospheric drag. We have also experimented with different frequencies and durations of the modes used to desaturate the spacecraft's momentum wheel, which is used to rotate the spacecraft.
We regularly monitor and analyze the spacecraft's attitude, or orientation, in order to determine how accurately we are pointing the sail where we'd like.
Operate the spacecraft in different modes and observe the results

Like NASA's Ingenuity helicopter on Mars, LightSail 2 is a technology demonstration mission meant to push the envelope of what is possible and pave the way for future spacecraft.
We have operated LightSail 2 in several different modes to see how well it maintains its desired orientation, and the resulting effect on its orbit. Four modes we've experimented with are:
Solar sailing mode: a standard sailing mode where we turn edge-on to the Sun when traveling towards it to turn off thrust, and face-on when traveling away from the Sun to gain a push from solar photons. This is our most-used mode.
Desaturation mode: currently in use once every two days, this mode uses magnetorquers to desaturate our momentum wheel.
Sun pointing mode: the spacecraft maintains a face-on Sun pointing mode throughout its orbit to optimize power generation on the solar panels. We have recently been testing this out more frequently.
Drag maximizing mode: LightSail 2 maintains a face-on attitude to the direction of motion to study how solar sails can intentionally generate drag and de-orbit spacecraft. We use this mode occasionally and will probably use it more when LightSail 2 gets lower in the atmosphere.
We also developed and tested techniques to improve attitude determination and control. In one example, we noticed a gyroscope was slowly falling out of calibration. We determined the proper offsets to fix this, tested them on our BenchSat spacecraft model, uplinked the corrections to the spacecraft, and evaluated how well we had fixed the problem. We are continuing to monitor the gyroscopes and make periodic adjustments.
Continue taking pictures for public and engineering analysis

We love sharing pretty pictures from LightSail 2 with the public. These pictures also serve an important engineering purpose by showing us how the sail is degrading and how the four metallic booms that hold the sail tight are behaving.
Recently we have seen possible degradation of the sail through shrinkage, crinkles and likely delamination of the sail's reflective coating in some areas. This is perhaps caused by interaction with atomic oxygen; an analysis is ongoing.
We have also noticed systematic changes in the sail boom tips, as well as non-systematic changes that may be caused by thermal expansion and contraction of the sail booms. An analysis is in progress.
Automated fault protection

Whether it's a big-budget NASA mission or a crowdfunded CubeSat, computer glitches and unexpected behaviors are part of every space mission. Automated fault protection and recovery software can help spot problems before they happen and keep ground teams from getting overwhelmed by spacecraft bugs.
Purdue researcher Justin Mansell developed a fault protection algorithm for LightSail 2 as part of his Ph.D. dissertation. When applied to LightSail 2 telemetry data, Mansell's software has successfully spotted anomalies that may have otherwise been overlooked.
Sharing, coordinating, and archiving

LightSail 2 is meant to enable and support future solar sailing missions. A big part of our extended mission is sharing what we are learning. We publish peer-reviewed journal articles, make conference presentations and conduct public outreach through social media and articles like the one you're reading right now.
We also interface directly with other solar sailing missions. NASA has three such missions planned: NEA Scout, Solar Cruiser, and ACS3. We share data and facilitate additional studies to help these mission teams learn from our experiences. Furthermore, we document and archive our LightSail 2 data so that it will be available for analysis by future missions.

Fly the spacecraft

There's one more important aspect of the LightSail 2 extended mission: we have to fly the spacecraft!
Our team carries out ongoing maintenance and monitoring to keep the spacecraft functioning properly. We uplink orbital elements twice a week so that it knows where it is. Maintenance activities also include clearing file space on the onboard computer as needed, working issues and anomalies as they arise, and monitoring engineering telemetry.
These past two years of LightSail 2 operations would not have been possible without the support of our members and donors. Thanks to your support, we'll be able to continue learning as much as we can from this unique mission!