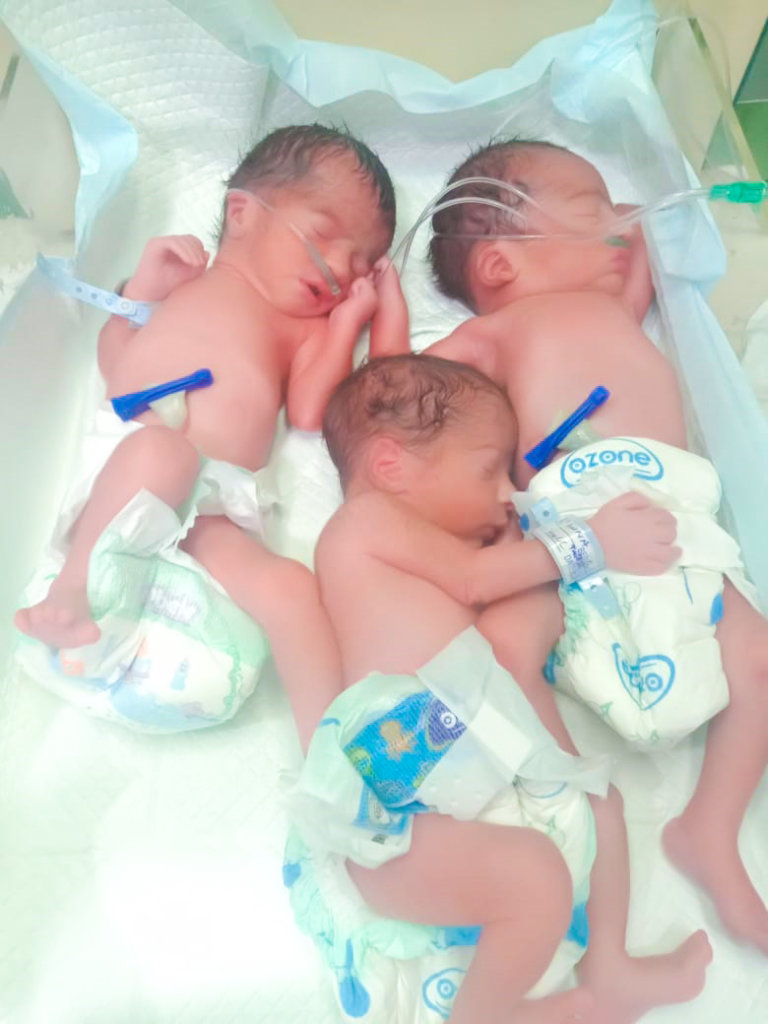 Yes....!
We are bursting with tears of happiness while writing these lines and are pretty sure that you must feel the same as all of us are together in this journey of saving these little angels. It is indeed the highlight of this quarterly project report, by the Grace of Almighty God, in the month of June, the team of Al-Mustafa NICU saved all three triplets born at Al-Mustafa Hospital. You must be aware that in many instances, the parents have to face the loss of one or more children when in critical condition during multiple births but with the blessing of Allah, we were able to save all three of these cute babies.
Detailed Condition of Triplets:
Hospital Stay
Triplet 1: 21 days
Triplet 2: 8 Days
Triplet 3: 8 Days
Weight
Triplet 1: 1.7 kg
Triplet 2: 1.7 kg
Triplet 3: 1.3 kg
GA
Triplet 1: 33 weeks
Triplet 2: 33 weeks
Triplet 3: 33 weeks
Diagnosis
Triplet 1: Preterm/RDS/Very low birth weight
Triplet 2: Preterm/RDS/Very low birth weight
Triplet 3: Preterm/RDS/Very low birth weight
Blood Infection
Triplet 1: Sepsis
Triplet 2: Sepsis
Triplet 3: Sepsis
Bubble-CPAP Treatment Duration
Triplet 1: 2 days
Triplet 2: 3 days
Triplet 3: 4 days
Ventilator Treatment Provided
Triplet 1: Twice
Triplet 2: None
Triplet 3: None
Blood Transfusions Provided
Triplet 1: 7 times
Triplet 2: 2 times
Triplet 3: 4 times
All the babies delivered at Al-Mustafa Hospital are kept under observation for 2 to 4 hours in NICU. Only after a thorough checkup by the Consultant, the babies are given to the parents. Most babies admitted in NICU are preterm (less than 34 weeks old), those having low birth weight (less than 1500 g weight) or having respiratory distress syndrome and sepsis or HIE (Hypoxic Ischemic Encephalopathy) etc. These are the few most common causes of neonatal mortality in our society. Please find the summary of the quarterly progress report of Al-Mustafa NICU as follows:
2nd Quarter Progress Report Summary
Total Births at Al-Mustafa Hospital
April: 36 Babies
May: 63 Babies
June: 63Babies
July: 98 Babies
Total Admissions in Al-Mustafa NICU
April: 25 Babies
May: 35 Babies
June: 37 Babies
July: 36 Babies
Indoor Admissions in NICU
April: 10 Babies
May: 11 Babies
June: 17 Babies
July: 14 Babies
Outdoor Admissions in NICU
April: 15 Babies
May: 24 Babies
June: 19 Babies
July: 22 Babies
Admissions due to Low-Birth Weight
April: 06 Babies
May: 09 Babies
June: 05 Babies
July: 10 Babies
Infants On Ventilator
April: 04 Babies
May: 06 Babies
June: 07 Babies
July: 05 Babies
We also offer the services for other conditions that require neonatology consultation like severe hyperbilirubinemia, infants of diabetic mothers, severe intrauterine growth restriction, severe hypoxia, respiratory distress requiring a ventilator, birth weight between 1000 g to 2000 g and gestational age between 32 and 36 weeks, etc. Al-Mustafa NICU's mortality rate is very low, though we face different daily challenges, we stand firm with our policies and protocols to protect neonates from other infections.
Between all this chaos happening around the globe, we sincerely hope that this progress report has brightened your day up.
Thank you for your support, all of this was only possible with the kindness and generosity present in your hearts. We will continue to send you more progress reports in the coming months.
Links: