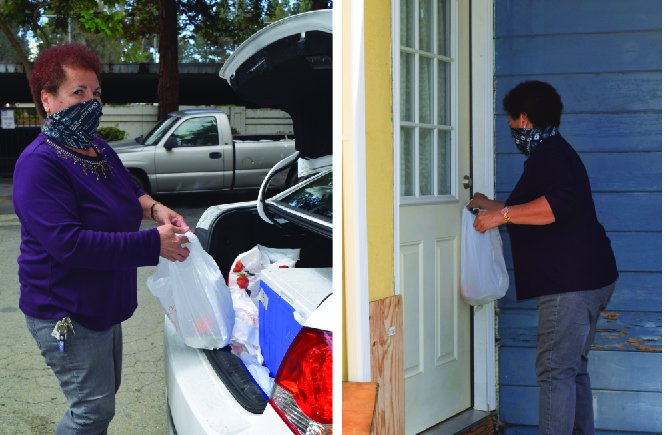 As the COVID-19 shelter-in-place continues with no end in sight, homebound isolation remains the new normal for thousands of at-risk seniors. And those who have no one to help them continue to rely on LIFE ElderCare for critical assistance: access to healthy Meals on Wheels and fresh groceries, connection to reduce their isolation, and other essential support.
Since the start of the pandemic, LIFE ElderCare has stepped up to provide them with the assistance they need to stay nourished in mind, body, and spirit. We're delivering over 13,000 Meals on Wheels / month (way up from the ~8,000 we were delivering pre-COVID). And because of this daily meal and other support - like home-delivered groceries from the food bank - high-risk elders can safely stay in their homes. They don't have to put their health at risk to make sure they have enough food to eat.
These are the seniors who live in our neighborhoods. Seniors like Lila G., a 79-year-old retired third-grade teacher. She tries hard to eat healthy so she can manage her high blood pressure; but when COVID-19 hit, Lila only had enough food to last for a few days and no family members who could help.
"I was scared. I really didn't know what to do or who could help me. Thank heavens I connected with LIFE ElderCare. They are all so kind and patient with me – and now, I have good food to eat again." – Lila
Luckily, Lila heard about LIFE ElderCare and gave us a call. The very next day, a LIFE ElderCare volunteer arrived at her home to hang a bag containing a healthy meal and juice on her doorknob. The volunteer waited (at a safe distance) to greet Lila and make sure she was doing ok. Because of this daily meal, and other services that LIFE was able to provide, Lila no longer feels alone or afraid.
Our success in fulfilling our mission depends on your generous support. With your help, seniors can stay nourished, safe, and connected. Thank you for caring for the well-being of one of the most vulnerable groups in our community – the homebound elders who need our support more than ever while they face the threat of COVID-19.
Because of you, they don't have to do it alone. Your thoughful kindness makes a world of difference!
Links: