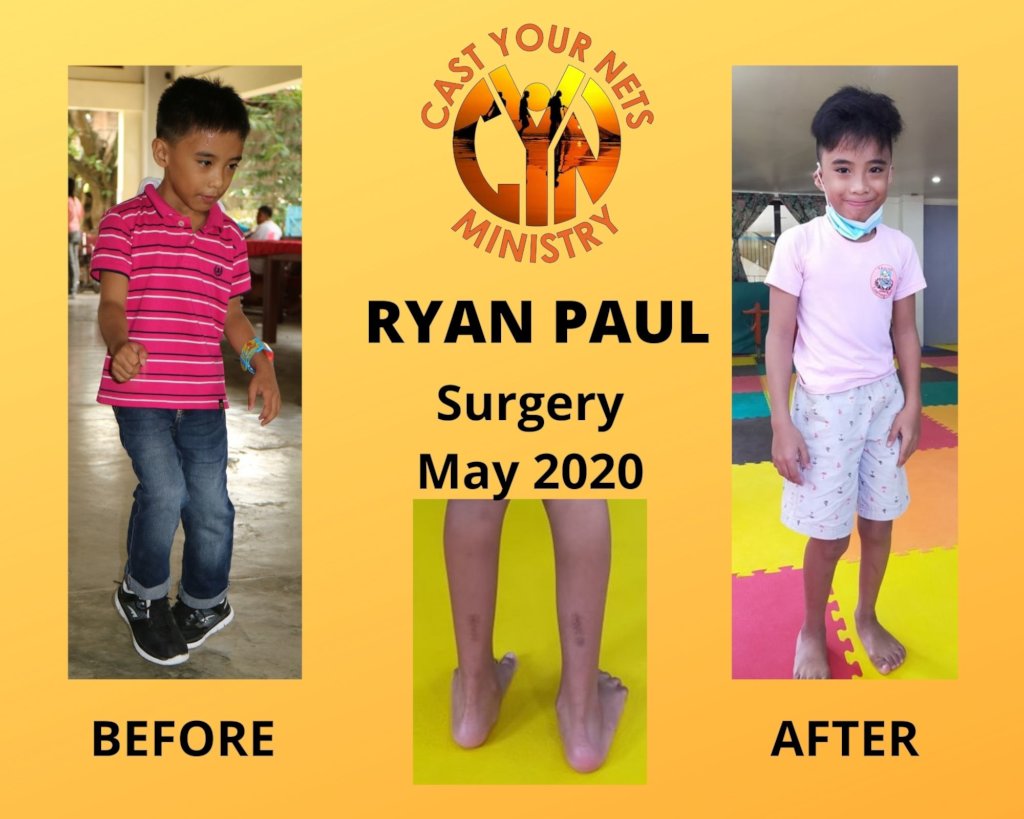 I would like to start this report with a big THANK YOU to all our donors this giving season. Due to the pandemic and local lockdowns, the effectiveness of our ministry has been reduced and we have temporarily been forced to find other options to help the community around us in other ways. Through this all, your support has been unwavering and we are truly thankful to all of you for this support.
Our current situations finds us still currently locked down on our home island of Siquijor. We are still limited in our ministry options as travel is still not feasible due to quarantine requirements each time we change island or province. We are anxious to return to our primary mission of helping children receive life changing surgeries and we will do that when the laws permit. In the mean-time we are keeping busy serving our clients in different ways.
Follow-up Physical Therapy.
We are still providing follow-up therapy for a number of children that we have helped with surgery in the past, particularly the four we brought to Davao last February before the lockdown. All four of the children have made great progress, we are including a before and after picture of Ryan Paul and note the change in his feet! His physical therapist in Dumaguete reports that he not only walking normally, but has now broken out in a run! Praise God, we have worked with Ryan Paul for over three years and it brings us such joy to hear this. Below is a quote from Ryan Paul's mother:
Ryan is now able to walk flat on his feet. Unlike before where he always walks on his toes. His walking position has also improved and he can now jump without having to worry about getting toppled over. As a parent it makes me feel proud of every little progress he has made and of course, we are grateful to the people behind his success!
We are continuing to provide therapy to many of our clients both in Dumaguete and our island of Siquijor. We will give more individual updates in future reports.
Provide for Therapy Center for the Island of Siquijor
We mentioned our plans to work with the Provincial Government of Siquijor to build a rehabilitation center in our previous reports. We made an extensive and detailed proposal to the Governor in October; however, we received no reply from them. We are now exploring ways to provide such a center without the help of the local government. In January we began working with local craftsmen to build some of the equipment needed for basic therapy and we are currently looking for space to use as a center. We do have a local physical therapist that we have been working with and we are seeking ways to fund her salary to accomplish this goal.
Feeding Malnourished Children
Last fall we began working with a nearby barangay (neighborhood) to enhance their feeding program for malnourished children. We are continuing to do when the local government allows us to gather together. We were forced to cancel our Christmas feeding due to local coronavirus flare up, but we were able to provide that meal in January. We continue to support these parents and children whenever we are allowed, they are such a blessing to us!
Again, many thanks to all of our supporters and please keep us in your prayers as we move forward!