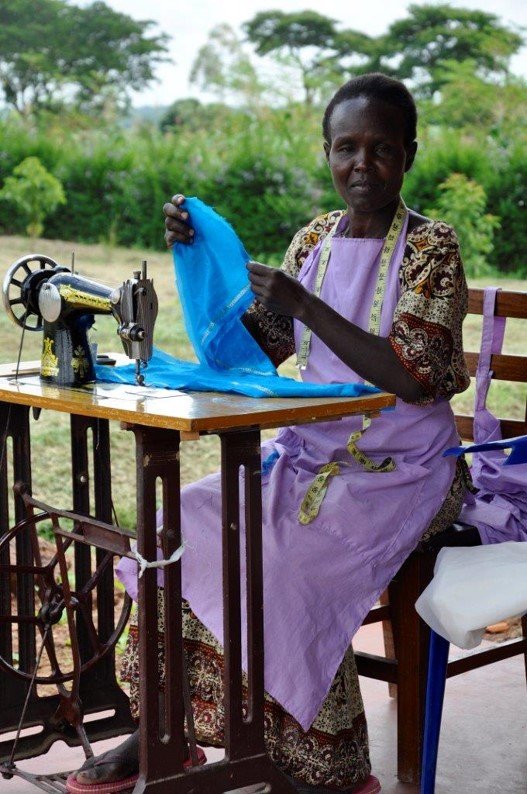 Yes, in some areas around the world, girls miss school simply because they do not have enough money to purchase sanitary pads. It boggles the mind to think that this is the situation for a huge number of girls – girls who want to go to school, to hold down a job, to go through life without drawing much attention to themselves. But, biology dictates that these things might not happen because these girls have no way to purchase pads and once a month, they must stay home or everyone will soon know that they are menstruating.
I know that this topic is not one we all discuss openly, but here at AFCA, it is a topic we think about, talk about, and plan for. With that in mind, this summer, volunteers are on their way to Kenya where they will conduct two weeks of intensive sewing classes, teaching women and older girls how to make feminine hygiene kits. These kits last an average of three years and are reusable and washable, saving the girls a huge amount of money and allowing them to return to their daily activities.
A container of medical and school supplies is being cleared at the Mombasa, Kenya port as I type this and in that container, there is a bit of joy happening! We have 6 sewing machines, boxes and boxes of cloth, sewing notions (scissors, needles, pins, pin cushions, cutting boards, buttons, snaps, etc), patterns, underwear, soap, washcloths, and a healthy helping of love. All these items will be used to build the kits. We also have a huge number of already-completed kits so that participating women and girls receive a kit right off the bat, allowing them to participate in the training even if they are menstruating.
When we arrive in mid-June, we'll start with eye exams to make sure all can see properly. If they need them, we have glasses, too! Then, while 16 women start working on kit making, 60 children will learn how to mend, sew buttons, and do other things mothers usually teach their children. As most of these children are orphaned, these are skills they do not have. After much practice time, the graduates from the tailoring school should be able to make their own kits and then, they are ready for training in marketing, budgeting, and sales. WHEW! What an incredible summer we are about to experience together!
None of this would happen without you, so THANK YOU. Thank you for giving a future to these women and girls!
With all my heart,
Tanya, for the trainees