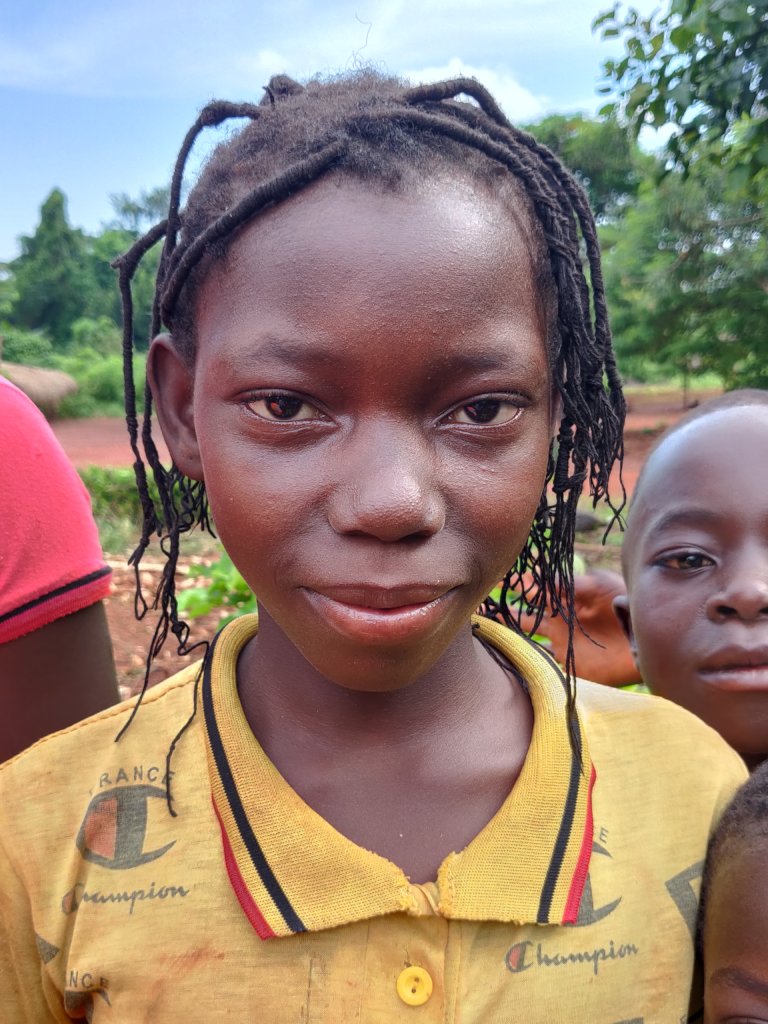 We arrive at the village in early noon, laden down with boxes with cloth, snaps, underwear, zip lock bags, and patterns. We set up shop at the front of the classroom, surrounded by approximately 250 girls and women, all ready to learn. Even though their leader told them that she had invited us to show them how to make reusable sanitary pads, they are a bit hesitant, not quite sure what to expect.
We set up the sewing machine at the end of the room and talk and laugh with the other teachers present. They are just as curious as the girls, dressed to the nines, as though attending church. While the sun beats down outside, we are all tucked into a white-walled room, with just enough air coming through the open double doors and out the window openings to allow us to breathe. I look out at the crowd and realize that they will neither see nor hear me if I stand where I am, so I climb unto a table and silence falls suddenly over the entire space. 250 pairs of eyes stare at me with some giggling mouths quickly covered with hands that can't hold the mirth from showing in those dark, dark eyes.
I hold up a pair of underwear and clearly say, "today, we are going to talk about your period". Gasps and moans of distress shower down on me, with those beautiful hands now hiding eyes as heads are bowed and teenaged angst and embarrassment take over most of the people in the room. I keep talking, showing them how a cloth pad kit can keep them going to school, even during their period. I snap a pad onto the pair of underwear and hold it up for all to see. I then show them how they can carry the dirty pads in a plastic bag with a bit of water and soap so that they are easy to wash when they reach home. I show them how everything comes together in a cloth bag that doesn't show what is in it, giving the girls privacy to their personal kits.
Each time a piece of the kit is held out for all the see, more and more hands leave eyes and mouths and soon, those hands are clapping. The rich, seemingly never-ending sound of clapping fills the room as I hold a kit up, showing the girls the gift they will each receive today. I feel like a champion holding up that kit, hearing all that clapping and joy. When the sound dies down, I ask for a volunteer to help us distribute the kits and hands all over pop into the air, no longer shy, but bold and confident. They open their kits and looks of wonder cover faces throughout the crowded room. They show each other the underwear they each received, the soap, the bags, the pads. They stand at the end of our gift-giving and do the low double-clap the Shona people do to express thanksgiving. With hands cupped slightly, they do a slight curtsy and clap twice.
I clap back, smiling and smiling and smiling.
Everyone here at the American Foundation for Children with AIDS, and our partners in Africa, thank you for your continued support of this important project. If you would like to learn even more about this project and others, please contact Tanya Weaver at tweaver@AFCAids.org.