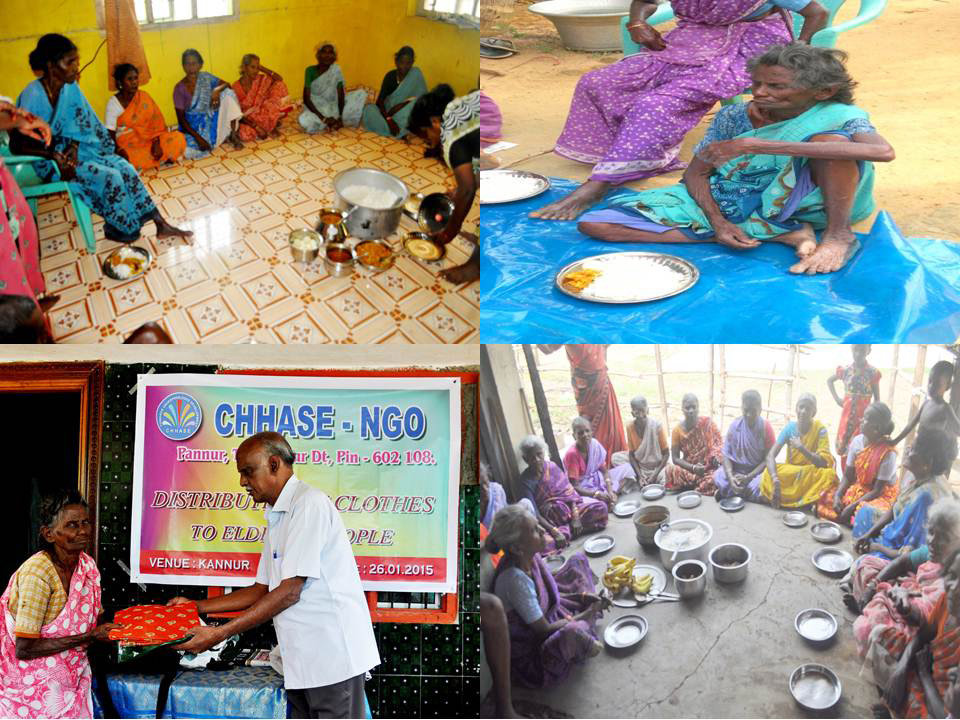 Respected Donor
Warm greetings from CHHASE.
Thank you for your generous contributions for the poor neglected elders through esteemed organization GlobalGiving.
As part of the CHHASE activities, we are identifying the economically disadvantaged poor neglectd elders in rural areas, where the elders are facing starvation, homelessness and timely medical support. In our analysis most of the poor elders are left with out caring by their own sons, daughters and close blood relations , because of poverty, Some of the elderly women are forcedly send away from homes by their own daughter in laws.Thus the elder women are begging, starving, lying insome palces with sickness, wearing shabby dresses since they have a another dress to change, sleeping in bus stops,grave yards Etc.
We at CHHASE carefully select the neglected elders, who are unable to go for work and not able look after themselves. we are providing food,clothing and medicines in order to make them as valuable citizens. We are asking them to have friendship with other elders and share their sorrows. With this kind of actions,They are happy and forget their sorrow and are happy.The women are very happy for this kind of gesture and expressed their sincere gratitude.
One of our elderly women said " I was starving without any food and help from my own son's and family members. They all treated as i am a burden to them. Even the neighbouring house women also never gave me a single meal, they too are very poor to share one time meal.But today i am happy and healthy because of your timely meals,clothe's and medicines wwhenever i fall sick. Thank you for generous support."
Thank you for your kind continuing support for the economically deprived and neglected women.
CHHASE thank you once again for your generosity.