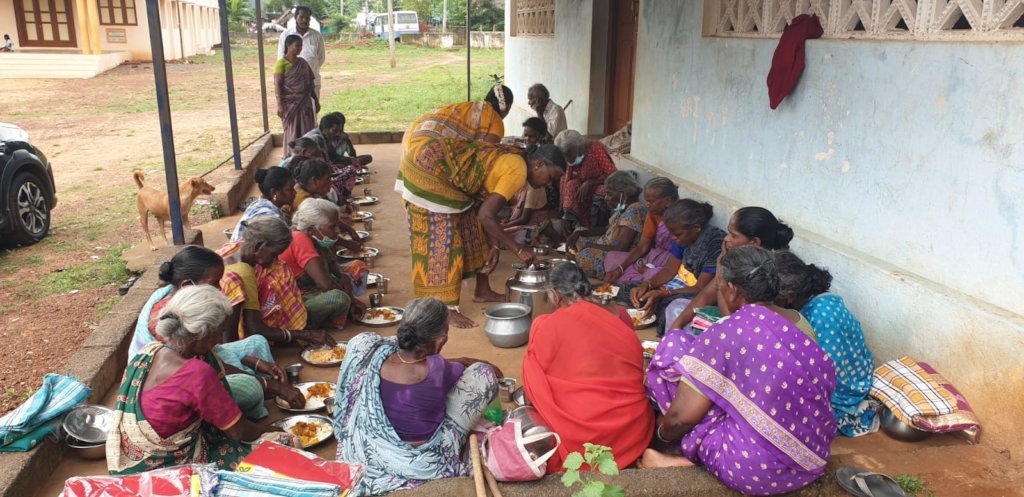 Respected Patron,
10 years ago, we have been organizing meal program for poor elderly people as part of our zero hunger. 2011 onwards we never turned back and feeding every day nutritious meal for older people with your substantial donations. old age care center with hygienic kitchen established to serve the quality food for the elderly persons.
Most of the senior citizens are suffering with starvation and ill-health. At this old age, the senior citizens age group 60 to 90 years are not able to work as their health does not permits at all anymore & they are living in thatched huts. We donate clothes, woolen blankets, helping aged persons at the festival seasons. All the elderly people celebrate seasonal festivals like a family irrespective of religion. As part of our ongoing initiatives we have been implementing Meal Donation program for 57 elderly people in Tiruvallur district and donating food for old age people every day & nutritious meal includes steam cooked rice, leafy vegetable dhal, traditional tasty sambar, buttermilk, seasonal pickle, fresh fruits. With this food sponsorship their health have been improved and blessing you and your family for the well-being.
They smiled and given blesses to all our donors on all festival occasions. Without your timely donations it is very difficult for us to serve the neglected elders to fulfill their needs during Pandemic COVID-19 Corona virus. Thank you for donating money to charity to feed the elderly people.
CHHASEthanking all our monthly recurring donors. Such donations are our strength and it is pushing our projects to success.
We have to stand firmly against corona virus to protect our country & entire world from it.

We would love to hear your feedback, comments & Suggestion on our program.
Best Wishes,
Team CHHASE India.....

Stay Healthy & Keep Physical Distancing!!