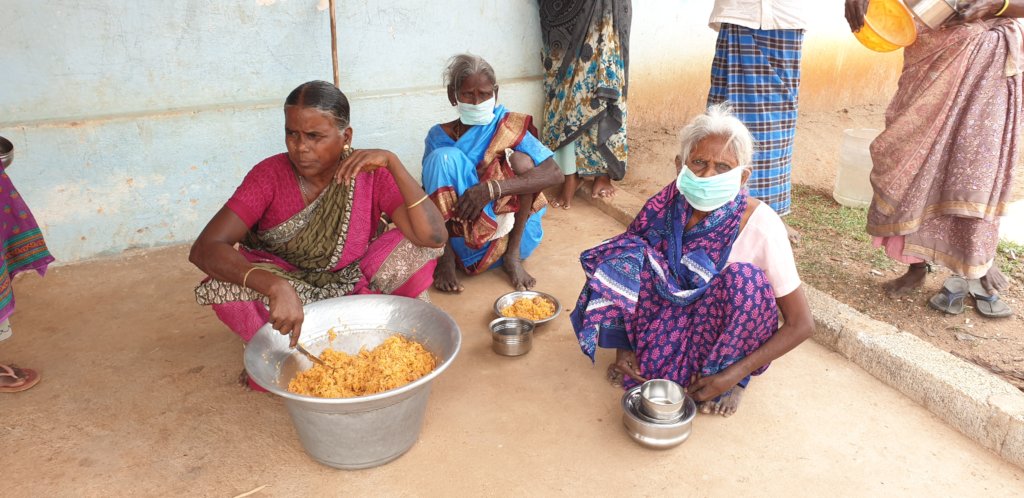 Dear Donor/ supporter !
CHHASE & our staff & our beneficiaries, hope you and your family stay safe and healthy.
Your generous support helped us to provide meal to neglected elders. Your support enabled us to save our beneficiaries from the spread of pandemic and enabled us to provide sanitizers, masks, glouses,soaps and mainly healthy food to keep them without starvation during COVID-19 pandemic and also mainly adopting social distancing. Now our beneficiaries are vaccinated and they are well.
Our primary responsibility is saving our communities from spreading of this deadly IInd wave of pandemic.
Our community kitchens play a key role to stop the starvation and give confidence that there is someone to help them in critical COVID-19 crisis. They do not have a daily wage work to help to feed their families. We have also come across many neglected elders are also suffer of this pandemic disease. These under privileged and children are facing starvation due to lockdowns. With such provision, migrant workers, poor jobless workers children and elderly people are benefitted.
We at CHHASE going door to door awareness about how to safe guard from COVID-19. During this visits, we have provided masks, saitizers, glouses, oximeters, temparaure measuring kits to verify whether someone got Covid-19 sign.
On behalf of these beneficiaries, CHHASE would like to thank you for your generous donation to help them.
CHHASE thanking all our monthly recurring donors. Such donations are our strength and it is pushing our projects to success.
We have to stand firmly against corona virus to protect our country & entire world from it.

We would love to hear your feedback, comments & Suggestion on our program.
Best Wishes,
Team CHHASE India.....