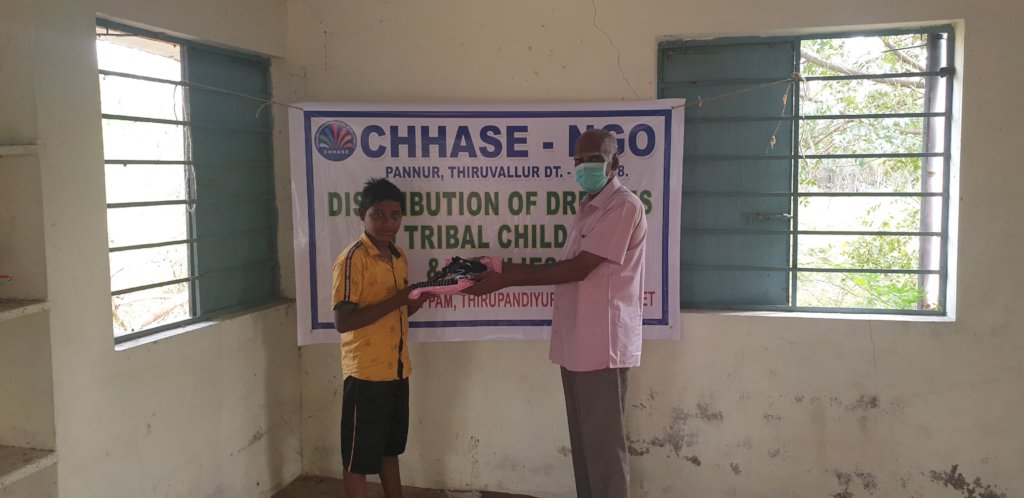 Dear Donor/ supporter !
CHHASE & our staff & our beneficiaries, Wish you HAPPY "Women's day", which we have celebrated on 25th march & 26th march, 2021.
Your generous support helped us to save our beneficiary and their families from the spread of pandemic and enabled us to provide sanitizers, masks, glouses,soaps and mainly food groceries to keep them without starvation during COVID-19 pandemic.
New Dresses to tribal children.
Pandemic COVID-19 bankrupted almost every one. This tribal are no exemption from it. They lost their daily wages and suffered badly. In this critical condition, CHHASE helped them with ration kits twice and we provided clothing during lockdowns.
Today 26th mar, 2021, we have distributed new clothes to 100 tribal children, who are otherwise left to wear shabby clothes.
WOMENS DAY CELEBRATION
Due to COVID-19 Second wave spread, We took several days to prepare ourselves for conducting women's day celebrations. We decided to call small number of our self-help group members for the celebrations. We took all precautionary methods like sanitizers, masks and social distancing.
During the celebration we insist our members to participate and learn skills for increasing their livelihood. We advised them to educate their children without fail. Most of our beneficiaries are aware of the value of education and use of skills at critical conditions like financial hardships. During the celebration, many of our beneficiaries shared their stories to others.
One of our beneficiary said " My name is Kavitha, aging 36 years. I am from poor family. My husband worked in private company and earned hand some salary to run our family and educate our two children without difficulties.
But all of a sudden, COVID-19 lockdowns imposed in 17th March, 2020, My husband could not go to work. We some how managed, two months without salary, By May,2020 we become bankrupt. Another one month more we managed. We want to borrow money from someone, but no one is there to lend money.
In june,2020 CHHASE NGO provided us relief material which was useful to run our family for one month. During this relief distribution, CHHASE NGO staff said " you have already learned sewing and why don't you try to stich blouses and petty coats and earn. With their advice, I started my sewing business without any capital. For 3 months, I earned Rs.150 per day, which was moderately sufficient to run my family. Now I became known sewing businesswomen, I am earning Rs.600 per day.
I told my husband to help me in this business and next month I am going to open a shop in nearby town. Learning a skill is always beneficial and it will help us when we are in helpless condition."
Livelihood program
With the help of donors like you, We have are providing sewing skills to 350 poor women to create livelihood and job placements. This training in sewing started in 1st March,2021 and will be completed on 31st May,2021 in 12 different places. As a matterof fact, sewing skill is well known as good business which always helps to earn in all seasons.
We are happy to inform that CHHASE has been selected as TOP NGO- 2021 by globalgiving. This is happened because of your generous support. We thank for it.
CHHASE thanking all our monthly recurring donors. Such donations are our strength and it is pushing our projects to success.
We have to stand firmly against corona virus to protect our country & entire world from it.

We would love to hear your feedback, comments & Suggestion on our program. Best Wishes,
Team CHHASE India.....