Project Report

| Nov 25, 2020
Wish you safe " Thanks giving Day"
By Dr. Vincent paul | Director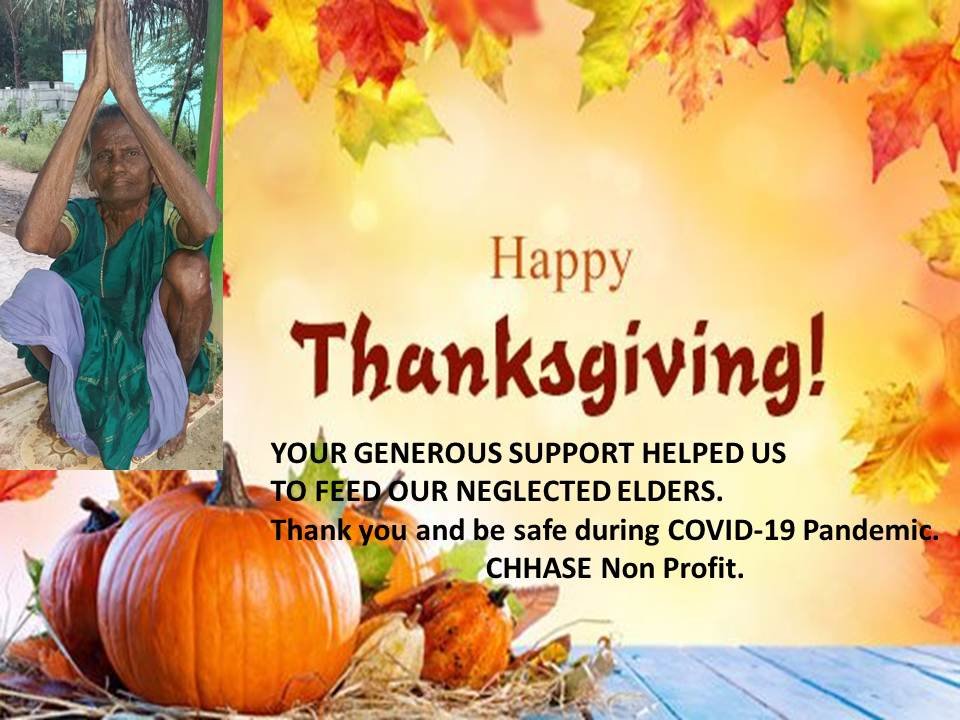 Dear Donor/ supporter !

CHHASE & our neglected elders, hope you and your family stay safe and healthy. CHHASE wish you "SAFE AND HAPPY THANKS GIVING"
We at CHHASE thanking you for your generous donation to provide food to our neglected elders. Without Your support, it was not possible for us to provide food to our neglected eldersand now they are leading a healthy, secure and safe life. You made big impact on our neglected elders lives. This program helped us to be best non profi and transparent. In recent COVID-19 time, With generous supporters like you, we are standing with our community and doing relief to our children, their parents and informal sector workers.
We are happily informing you that we have earned GuideStar's 2020 Platinum Seal of Transparency, the highest level of recognition offered by GuideStar, the India's largest source of nonprofit information.
Also we have earnedGreatNonprofits Top-Rated badge. You too can start today by posting a review and share your stories about our projects. Your review can gain more exposure and trust with current and potential donors, volunteers and all supporters.
With generous contribution from donor's like you, we have distributed Rice, dhall, cooking oil .atta, suji, condiments, soap, mask, gloves and sanitizers to 1680 families, who are worst hit by COVID-19 lockdowns. we have also provided ration kits to 200 orphaned children guardian to look after well the children. This is a timely support to informal sector workers to save them from hunger.
In this difficult situation, we are standing with our Neglected elders, children and community. So far more than 30000 cloth-made Re-usable safety masks have been made and distributed in different urban and rural areas.
With the help of donor's like you, through community kitchens, we have so far provided 175000+ Meals to poor wage workers, agricultural labors, children and lonely elders and have to continue till the end of spreading of COVID-19. This provision play key role to stop the starvation and give confidence that there is someone to help them in critical COVID-19 crisis.
CHHASE Non profit is still running ''Livelihood program to COVID-19 Affected Families'' , who lost their earnings due to COVID-19 lockdowns. With our trainings, they can restart their livelihood.
We have to stand firmly against corona virus to protect our country & entire world from it.

We would love to hear your feedback, comments & Suggestion on our program. Best Wishes,
Team CHHASE India.....