Project Report

| Oct 13, 2020
CHHASE earned 2 transparency badges
By Dr. Vincent paul | Director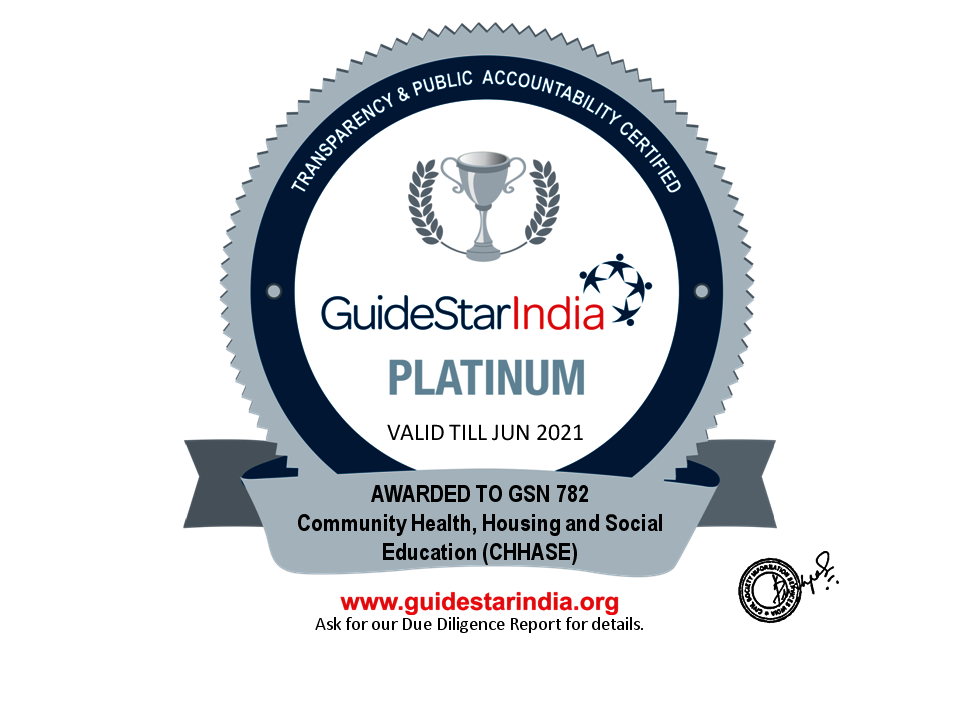 Dear Donor/ supporter !

CHHASE hope you and your family stay safe and healthy.
First of all, We at CHHASE thanking you for your generous donation to help informal wage workers and happy to earn 2 badges for our transparency and devoted service.
We are happily informing you that we have earned GuideStar's 2020 Platinum Seal of Transparency, the highest level of recognition offered by GuideStar, the India's largest source of nonprofit information.
Also we have earned GreatNonprofits Top-Rated badge. You too can start today by posting a review and share your stories about our projects. Your review can gain more exposure and trust with current and potential donors, volunteers and all supporters.
At the beginning of lockdown, Rukmini Devi ( name changed), who worked as house keeper for several households, found herself with extra income and her husband who was caught between jobs as a Rickshaw puller. The two earned enough to afford fruit in their diet, especially bananas and apples for their nine year old daughter and for their 7 year old son.

Now, despite the completion of all the stages of unlocking, the young couple are still without any real work and living on hand-outs and meals of watery dal and rice. This is a story that is being repeated - with various versions and combinations - tens of millions of times across India, the basic tale being of chronic hunger.

Those who live with chronic hunger also follow a common pattern of food deprivation. First, like Rukmini Devi's (Name changed) family, they cut out the nutritious components from their diets like fruit, milk, eggs, meat etc as they become unaffordable. After quality, next they reduce the quantity of food on their plates, then the number of meals per day.

Even before coronavirus ravaged our economy, hunger was the #1 cause of death in India with 7,000 Indians dying of it every single day. Now the numbers have become unthinkable - ironic in a country which is one of the largest food producers in the world.

Just Rs.500 will feed a hungry family for a week or Rs.2,000 for a whole month.
With your generous contribution, we have distributed Rice, dhall, cooking oil .atta, suji, condiments, soap, mask, gloves and sanitizers to 1680 families, who are worst hit by COVID-19 lockdowns. we have also provided ration kits to 200 orphaned children guardian to look after well the children. This is a timely support to informal sector workers to save them from hunger.
In this difficult situation, we are standing with our Neglected elders, children and community. So far more than 30000 cloth-made Re-usable safety masks have been made and distributed in different urban and rural areas.
With the help of your support, through community kitchens, we have so far provided 175000+ Meals to poor wage workers, agricultural labors, children and lonely elders and have to continue till the end of spreading of COVID-19. This provision play key role to stop the starvation and give confidence that there is someone to help them in critical COVID-19 crisis.
CHHASE Non profit is still running ''Livelihood program to COVID-19 Affected Families'' , who lost their earnings due to COVID-19 lockdowns. With our trainings, they can restart their livelihood.
We have to stand firmly against corona virus to protect our country & entire world from it.

We would love to hear your feedback, comments & Suggestion on our program. Best Wishes,
Team CHHASE India.....

Note: At this Hard time The CHHASE India's Main focus is on COVID-19 Relief Campaign.......