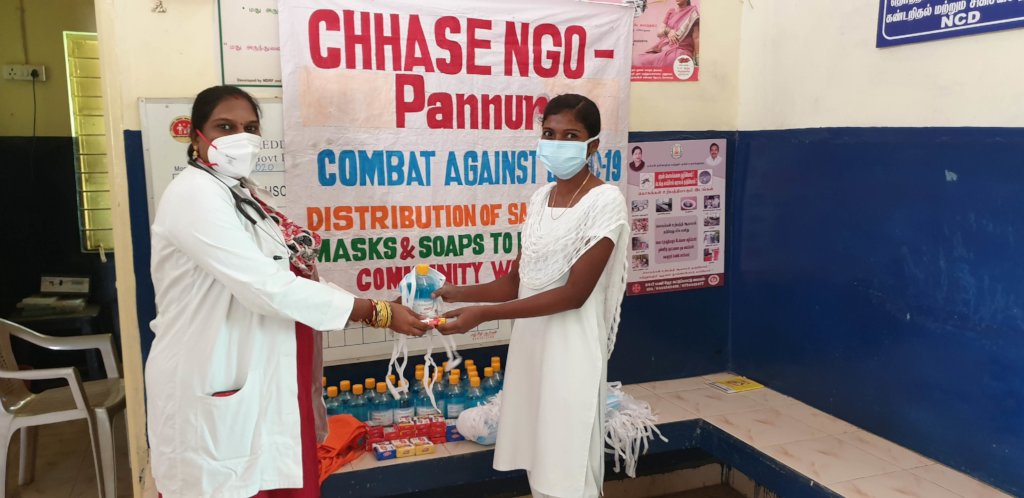 Respected Donor
The whole world combat against COVID-19 to stop spread. Our medical staff and community workers are tirelessly struggling to cure positive cases. Many countries imposed lockdowns to stop community spread. But this action created difficulty to informal sector workers and they lost their daily wage work. Now they wake in thinking of what to do to feed their family. During this lockdowns, children lost their play time and they are forced to sit at home to keep social distancing.
We at CHHASE are more concern about stop the spread of COVID-19 among our communities. Our staff and volunteers are going door to door to create awareness about social distancing, use of masks, drinking of hot water, hand washing and sanitizer usage. Our volunteers also distributed masks, soaps and sanitizers.
Now sanitizers, reusable masks, soaps and glosses are in shortage. Since the health and community workers need sanitizers, reusable masks, soaps and glosses to keep them safe from COVID-19, CHHASE distributed them to the medical staff and community workers.
As a responsible nonprofit, we have not forgotten the informal sector workers, who lost their daily wages and struggling to feed their family. To help them, we have started 2 community kitchens to provide meals to migrant workers, children and elders.
Also we have started distributing KABA SURA KUDINEER to increase the immunity. We have not forgotten neglected elders and have distributed one month food groceries at their door step. This activities are our small contribution towards our community.
Kindly visit our project "Help informal workers- COVID-19 crisis". Link : https://www.globalgiving.org/projects/help-informal-workers-covid-19-crisis/
Now we are producing two layer cotton masks at our training Centre's. With your support, we will reach our target of 50000 masks to distribute free of cost. Kindly help us to reach our target.
On behalf of these beneficiaries, CHHASE would like to thank you for your generous donation to help them.
Warm Regards,