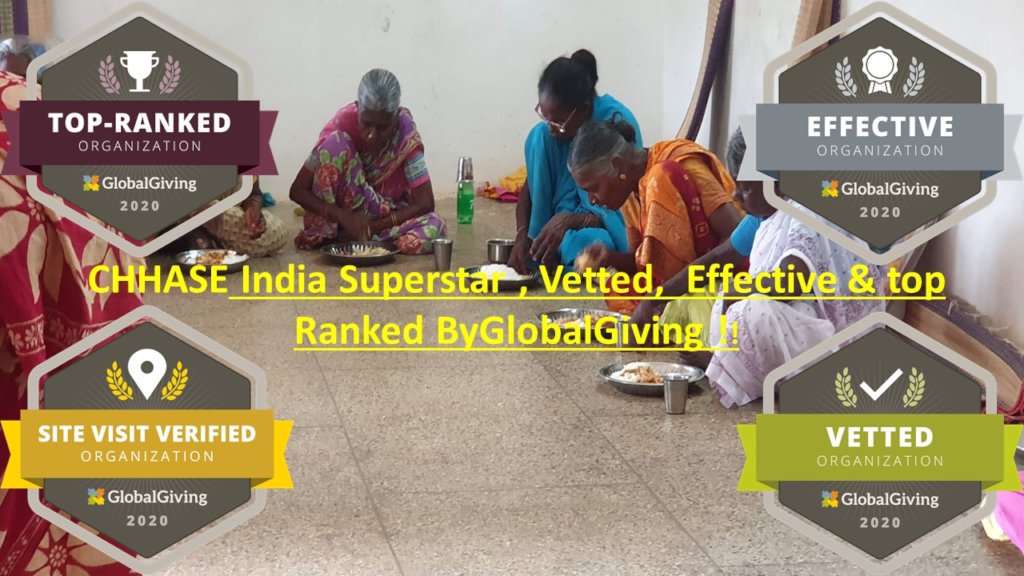 Respected Donor !!
Many Greetings from CHHASE !!
We have been getting your valuable generous support through GlobalGiving and we are thankful to you from the core of our heart.
CHHASE India Superstar , Vetted, Effective & top Ranked By GlobalGiving !!

We are happy to share the Great news!! We're very proud to have been Recognized as a ''Super Star, Effective, Vetted '' & Top Ranked organization'' continuously on GlobalGiving ! We thank GlobalGiving team for their Valuable Support & Guidance over the years.

Thanks to all of our Supporters, Donors & Friends who made this possible! We couldn't accomplish any of this without your support. Also, congratulations to Community health housing and social education (CHHASE) staff for making it possible! We assure you that your donations will exclusively support the welfare programs.

Become a fundraiser

CHHASE has been Determined for last 19 years towards Education, Women Empowerment, Health, Better livelihood, Development of marginalized deprived community. Also, the organisation has been working at sensitive issues like women empowerment, prevention of violence against women, self-employment, provision of food groceries to neglected elders, elderly care,child welfare, environment conservation. We hope to get your valuable support continuously for these social & developmental works. In this order, we Request you to become a fundraiser for one of our projects and please contribute for this noble work from your valuable time and Raise funds. We will be so Glad, if you associate with the organisation and contribute for the welfare works and continue your support.
NOTE:
Did you know that one of the most impactful actions you can take as a donor is to start a recurring donation? Monthly gifts made by generous donors like you, provide our nonprofit the stability we need to sustain the life changing work.
Many thanks again for your support!!

We will continue to keep you updated about our work and events of the following months.
A few commenst sent by some of our Generous donors on GlobalGiving !!

'' Its every sons responsibility to take care of elders for what they have done for their next generarion.''

" Feeling blessed "
" Remembering my mother "
We welcome your comments & suggestions in the comments Box.

Best Wishes from CHHASE India!!