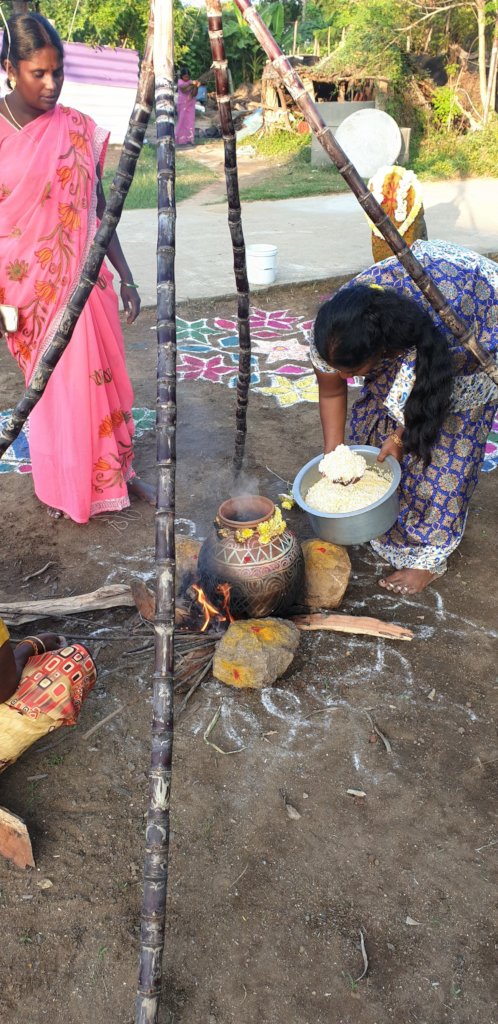 Respected Donor,
Warm Greetings from CHHASE.
We are very happy to inform you that our charity is Top Ranked and Vetted Charitable organization for the year 2019 by the USA 501c3 Tax Deductible Charity GlobalGiving Foundation.
CHHASE and the beneficiaries wish you and your family "A HAPPY PONGAL " !! Pongal is mainly celebrated to convey appreciation to the Sun God for a successful harvest.
The harvest festival is celebrated over four days with each day having a different ritual. Here is how Pongal is celebrated in Tamil Nadu. The first day of Pongal is celebrated by paying respect to the rain gods who are responsible in ensuring a good crop year.
The Pongal festival, of all the festivals being celebrated throughout Tamil Nadu today by all regious population, has special significance for two reasons. First, it is the harvest festival of the Tamil nadu state and the neighboring south Indian states. It is being celebrated from time immemorial; it is a thanks giving festival - the farmers thank the life-giving sun and their cattle; others thank the Mother Nature and the farmers for producing a bountiful crop and keeping us all alive. The festival is observed annually exactly on the same day (first day of the month of Thai - co-eval with the 14th or the 15th of January of the western Gregarian Calendar. The Tamils follow the solar calendar. Originally, Tamil New Year Day was celebrated on the Pongal Day and not on the first day of the month of Chithirai. This day was celebrated as the beginning of the ilavenil season ( the spring festival ).
We at CHHASE believe in "Service to mankind is service to God".With this belief, we are now helping our neglected elders.
CHHASE visit elders regularly for the necessities & immediate need. We discuss with each elder for their need. As per their desire we sponsor clothes to prevent them from cold & medicines to prevent them from disease after doctors consultation. We are providing nutritional hot meal, sambar, rasam, veg-curry, eggs, curd, pappad etc. Apart from nutritious meals, we provide medical care, medicines and necessary clothes to keep them warm. By helping neglected elders with timely support, They are progressing well in their health issues and forgetting their worries. They expressed their gratitude and thanks to you as you made generous donation for the elders care sponsorship. All your donations to this project will exclusively support the under privileged poor children and tribal children education .
NOTE:
Did you know that one of the most impactful actions you can take as a donor is to start a recurring donation? Monthly gifts made by generous donors like you, provide our nonprofit the stability we need to sustain the life changing work.
Thanking you for your kind cooperation and generous financial support. Without your generous donations it is very difficult for us to '' To care and feed the neglected elders !!''
Dear friends and donors, you're valuable suggestions are welcomed for this noble work. Please do provide your suggestions in the comment box so that Empowerment of marginalized community may be more successful.

Many thanks again for your support!!