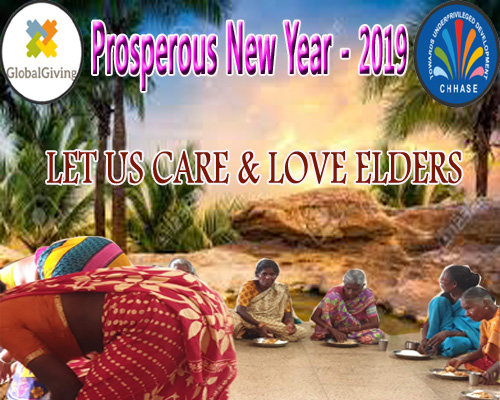 Respected Donor,
CHHASE and the beneficiaries wish you and your family "A prosperous new year-2019" !!
Our elders wish you Prosperity, success and an awesome "HAPPY NEW YEAR- whole of 2019 !!". "HAPPY NEW YEAR-2019" and many more returns of this season.
Keeping our services without interruption depends on donor's generous support. CHHASE want to create a space, where there is no sufferings of starvation. With your support, we have been providing nutritious meals for 59 old age persons. The age group of the old age persons are 60 to 90 years. Some of them are having ill-health and they are not able to work any more for their survival. Every day we provide nutritious meals to 57 old age persons and the meal includes steamed cooked rice, tuar dhal, sambhar, vegetable curry, pickle and seasonal fruits, curd, etc. with this nutritional meals the old age persons are very healthy and they are very confident that they live more days.
CHHASE provide not only food support, we provide warm clothing and medical treatment for them with love.The elderly person's health have been improved and expressed sincere gratitude towards your kind gesture. With your kind and timely support only we have been serving the destitute and needy without any struggle
Become a change maker in CHHASE India!

When you join CHHASE India, you will join a special group of change makers, reaching out each month to provide Neglected elderly care, Health, Education & Livelihood for poor families around the Tamil nadu. Together, we can eradicate poverty, Illiteracy, Malnutrition, global warming & Violence. If you would like to take part in this Remarkable effort on an ongoing basis, we recommend it's a good time that you start a recurring monthly donation for a small amount at........

https://www.globalgiving.org/projects/lessprivilege-elder-need-love-care-and-meal-support/
Many thanks again for your support!!

We will continue to keep you updated about our work and events in the following months.
Note:-
Dear Supporters ..., you may give us points between 1 to 10 to the extent of your satisfaction with our performance. We will be glad to get your response.

You may do the above in the review column at the end of the report.