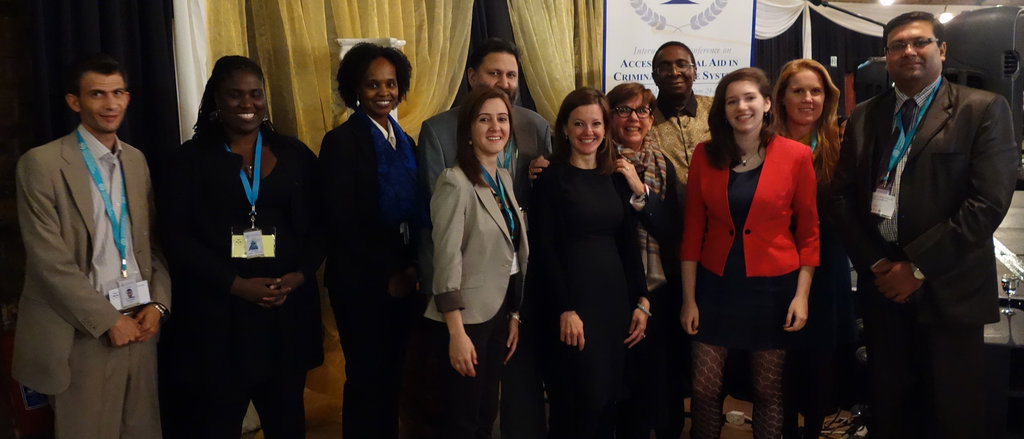 The International Legal Foundation continues to follow up on its January 2015 assessment of Myanmar's criminal legal aid system. With your support, we were able to travel to Myanmar and assess the ability of poor people accused of crimes to access legal counsel. Now, we are using the connections we made and the lessons we learned during the assessment to consult with Myanmar's justice sector on ways to reform its criminal justice system.
On March 23rd-24th, Jennifer Smith, the ILF's Executive Director, traveled back to Myanmar to participate in a national-level meeting on criminal legal aid, the Myanmar UN Principles and Guidelines on Access to Legal Aid in Criminal Justice Systems National Workshop. The workshop was an opportunity for Myanmar's justice and judicial system stakeholders to discuss the UN Principles and Guidelines on Access to Legal Aid in Criminal Justice Systems, the first international instrument to deal with legal aid.
This workshop brought together international experts and government officials, including the Attorney General and General Secretary, as well as civil society leaders from local legal aid organizations. Participants discussed the current legal aid system in Myanmar and its draft legal aid law, as well as an overview of the different legal aid models and what may work best in the context of the Myanmar justice system.
Jennifer Smith gave two well-received presentations at the workshop, drawing on the ILF's extensive experience in working with countries emerging from conflict or in transition to establish criminal legal aid systems. The first presentation, an overview of legal aid delivery systems, emphasized the government's responsibility to ensure quality representation and showed the various methods by which governments can accomplish this. The second presentation, Quality Control & Monitoring of Legal Aid Services, discussed how to achieve this objective through developing oversight and monitoring mechanisms. Such mechanisms are the cornerstones of the ILF program, and are a necessary element of any effective legal aid system.
On March 24th, the ILF's New York office welcomed Aung Kyaw Thein, the Program Advisor for the Yangon based Pyoe Pin Development Programme. Pyoe Pin focuses on facilitating better understanding of legal rights and responsibilities and strengthening the rule of law in Myanmar. Aung Kyaw Thein had traveled to the United States to participate in an access to justice meeting in Washington, D.C., which presented the perfect opportunity for the ILF to host him in New York for visits to The Legal Aid Society and Neighborhood Defender of Harlem, two successful models of legal aid delivery in New York.
Aung Kyaw Thein and ILF Program Director Nicole Taylor met with Justine Luongo, Attorney-in-Charge of the Criminal Practice at The Legal Aid Society in New York. It was a fruitful discussion, in which Aung Kyaw Thein raised questions about funding, oversight, appointment mechanisms, budgeting, and the scope of services provided at The Legal Aid Society, as these are issues that the Myanmar government is currently addressing as it develops its legal aid system. Luongo's detailed explanations gave Aung Kyaw Thein a better sense of how to craft solutions on these issues and how to provide better advice and recommendations to the Myanmar government.
Aung Kyaw Thein and Taylor also met with Rick Jones, Executive Director of the Neighborhood Defender of Harlem. This meeting was insightful, as Jones was able to discuss how to effectively provide quality representation to a smaller, more targeted community. The discussion was enlightening for Aung Kyaw Thein as he learned about NDS's commitment to holistic representation and the important impact of representing the whole client. This would be an innovative idea in the Myanmar Legal Aid System.
The ILF will continue its engagement with Myanmar, providing consultation and networking with justice sector stakeholders. Myanmar has a clear interest by the government in creating a more effective legal aid system and a clear constitutional right to counsel which is supported by its criminal procedural code and other laws; however, there is a significant gap between these laws and current practices. The ILF hopes to continue helping to bridge this gap, and to address the challenges to access to justice in Myanmar.
Links: