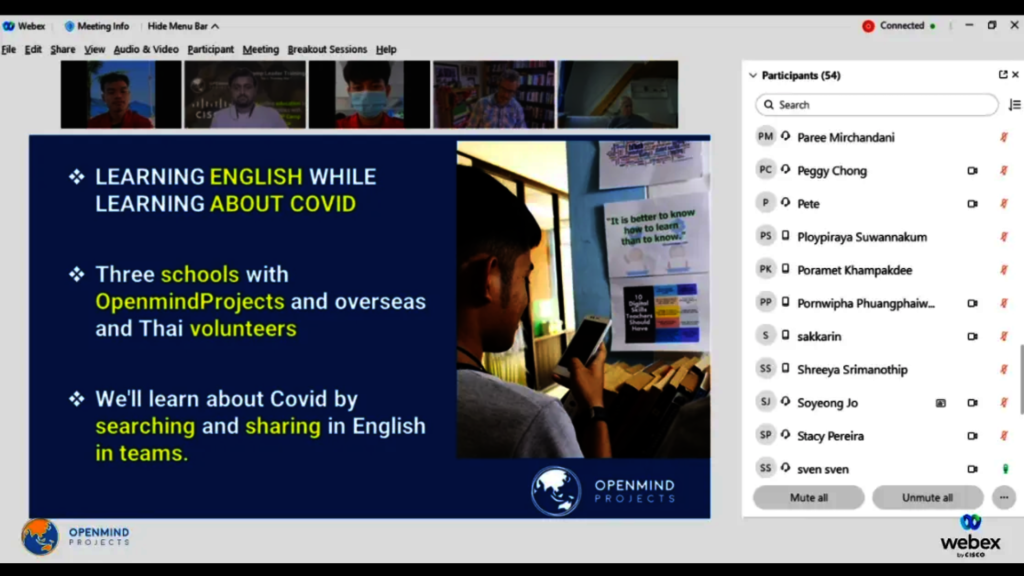 Covid-19 is still affecting OpenmindProjects' work and students' studies. But we go online in the meantime!
Thanks to our Thai alumni, who now volunteer with us, previous and new overseas volunteers we are adapting to help using the Cisco WebEx and helped b volunteers from Cisco too!
OpenmindProjects has over the years helped many young people in Southeast Asia with the help of international volunteers and the use of IT/internet.
Covid disrupted our work. What to do? How to adapt? How to go online? How to find volunteers and systems, tools, to be able to go online? Previously we relied on volunteer donations. Now we had to reduce costs. How to find new funds? How to hibernate, to survive?
Covid will not go away, so we reluctantly had to reduce costs, close our Training Center. No point losing money on rent, repairs, other costs when we can host no local trainees, campers or overseas volunteers! With no trainees, no campers, no volunteers we were very sad to see staff friends leave! But we moved on to a new location, hosted by a school we have supported for many years and where we hope to welcome trainees, campers and volunteers next year.
We are now learning to offer online education to young and disadvantaged students in Thailand, Laos, later on also in Cambodia, Nepal and Myanmar, our program countries.
Together with talented and dedicated local and overseas Volunteers we look to turn the Covid Experience into an Education Opportunity!
How to design online learning for isolated and disadvantaged village, ethnic minority and migrant students?
Our first Online School Program has just started. Three schools around Thailand are participating: a school for disabled in NongKhai, another for ethnic minorities on the Myanmar border and the third in Krabi, the South. We have already learned quite a few things, about difficulties, opportunities, tech issues and been encouraged by the energy of many students and the enthusiasm of helpful and patient volunteers.
We use Cisco's WebEx with the compliments of Cisco and are happy also to have many Cisco volunteers working together with other 'old' and new volunteers and previous trainees, campers. Gaweechat, our cofounder and James, one of our successful campers, trainee alumni are doing a great job hosting and moderating the program.
This first task-based learning project focuses on COVID-19 and its effects with a special emphasis on education effects and opportunities. Students search online to learn about COVID-19 and its effects with the help of local and overseas volunteers, summarize what they learn and will after 8 weeks present their findings including how they have learned from these effects and what opportunities for their own online learning they see in the future. They will share their findings online in presentations and videos.
OpenmindProjects and volunteers will also have learned more about how to offer future task-based learning programs to local poor students, villagers, migrants, ethnic minorities.
This is a small but truly global project with volunteers from East, Southeast, and South Asia, as well as Australia, Europe and America.
We have also launched an Openmind Open House with young people online where we discuss important issues affecting Thai and other SE Asian youth: internet security, environmental protection, climate change, online education, even AI, artificial intelligence, and its opportunities, threats. They learn about these issues while sharpening their English skills.
We are learning a lot and finding ways to scale up, reach many more underprivileged students who suffered and lost precious education time during this pandemic.
We are very excited to continue online thanks to our volunteers and Cisco and are now looking to fundraise for our future work and projects to help the young but underprivileged in SE Asia! We know we have to learn a lot, to improve, and to find new ways to fund our work!
Together with local and overseas volunteers we can inspire students to learn about important topics while they improve their English and IT/internet skills, gain confidence and inspire their own friends.
We are grateful for all support during these difficult times and hope we inspire future support for our work to go online and one day welcome volunteers, campers and trainees back to help the young students!
OpenmindProjects Cofounders
Gaweechat Joompaula and Sven Mauleon
PS
Welcome to follow our online activities, contact gaweechat@openmindprojects.net for an invitation.