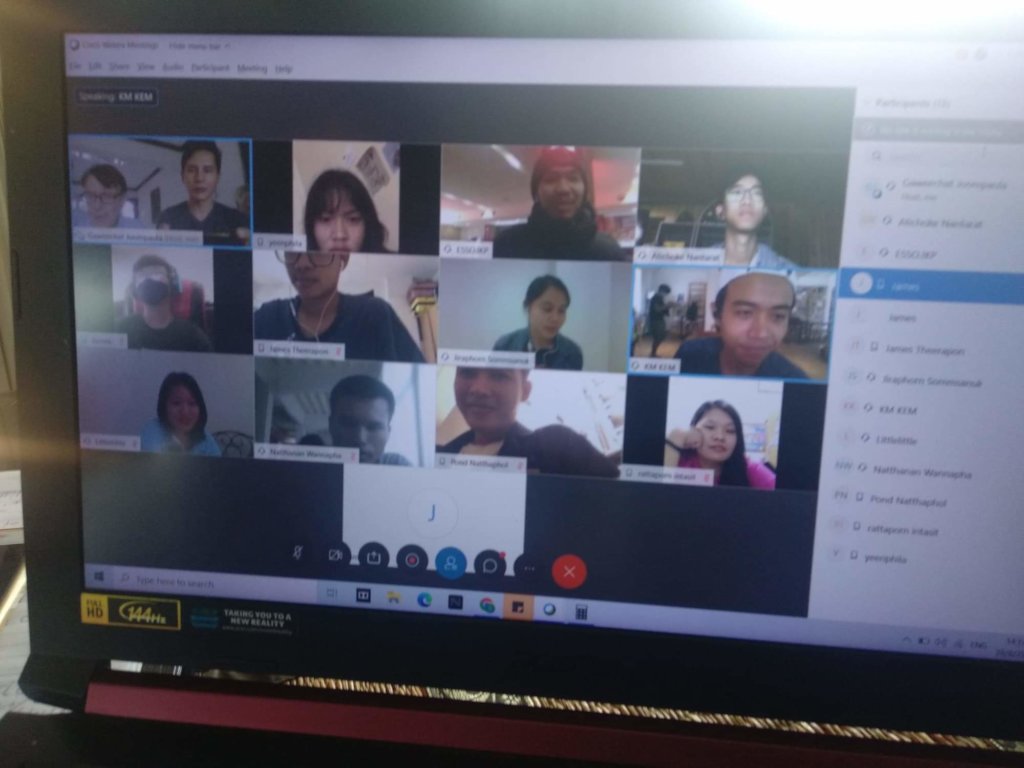 OpenmindProjects, a Thai NGO and its alumni students, in collaboration with Cisco Systems
"Thai village students switch on to online learning to boost your English and other skills"
says OpenmindProjects!
'OpenmindProjects has been committed to helping children to digital learning ever since it started in Isaan 18 years ago! With Cisco, OpenmindProjects can enable village children throughout Thailand to boost their leaning in virtual classrooms and help them to connect to international volunteers. Children, teenagers with limited opportunity to learn English and IT will be able to plug into our online program,' explains Gaweechat Joompaula , cofounder, from Udon Thani, of OpenmindProjects!
Village children like everyone else will need to learn to learn and continually upskill in a rapidly changing Thailand. Online learning will be essential for Thailand to be a place where all talent regardless of background can succeed.
'OpenmindProjects has a long experience working with international volunteers, introducing them to Thailand, its culture, language and schools . Covid put a stop to that. Now they will help volunteers throughout the world to support young people in Thailand in interactive online learning English activities.
OpenmindProjects wants to help Thai learners from anywhere connect and learn with volunteers, to share what they learn on social media and suggest, present their own solutions to important global or local problems, like global warming, or how Thai students can improve their ranking in international English tests. Competition always brings out a lot of energy and motivation is the first key to learning so they will be able to compete for best English and solutions in teams. This is what they want to bring to schools online now with the help of Cisco's WebEx, virtual classroom opportunities and with international volunteers.
OpenmindProjects collaborates with Cisco Systems. 'Cisco helps us with their WebEx online tool that will allow us to host virtual classes for village students who can participate via mobiles or laptops. Virtual volunteers will help children learn English while they learn to search online, analyze, conclude, present and debate an important topic like climate change in English,' continues Gaweechat.
OpenmindProjects has helped village and migrant children to use IT/internet and learn English since 2002. International volunteers have been an integral part until COVID-19 disrupted their work. The challenge is now to adapt to online support.
This collaboration makes it possible for village children to learn English while they learn about important topics. Volunteers and students can share presentations, use digital whiteboards, record classes, have 'breakout rooms' for teamwork.
OpenmindProjects alumni understand Thai students and Cisco volunteers know what is technically feasible. In a week-long virtual workshop, testing and using WebEx, with digital whiteboards and break out team work rooms and tools like Poll Everywhere, OneMob. Together with Cisco staff from several Asian countries, they outlined learn English online programs for village students with international volunteer participation. One program was focused on why Thai students don't do well in international English tests. Thai students would with volunteer help finding information online, analyze, present, share on social media and debate solutions in English.
'Online collaboration is not new to us. Meetings, workshops are done via Webex. Working from home is the new norm. We are excited to share experience, best practices and digital tools with OpenmindProjects,' says Stacy Pereira, the Asia Pacific, Japan and China Strategy & Planning Lead from Cisco Australia. Michelle Jeong from Cisco South Korea, adds, 'I'm so glad to help children using our technology. When I worked with OpenmindProjects alumni, I was impressed with their passion to support their communities. We're really looking forward and committed to this digital journey with OpenmindProjects!'
OpenmindProjects alumni James, studying international relations at Mahasarakham University, thinks, 'Covid, a new challenge? It is unable to stop us from learning! Me and my friends will help make students and schools highly benefit from this OpenmindProjects and Cisco initiative!'
'We have worked with thousands of Thai, Lao and Burmese teenagers at school and in our camps over the years. Now we will help online. We bring our pedagogic style and experience working with schools, students and international volunteers. Cisco contributes their technology, online experience and volunteers, great synergy,' conclude Gaweechat and Sven.
Links: