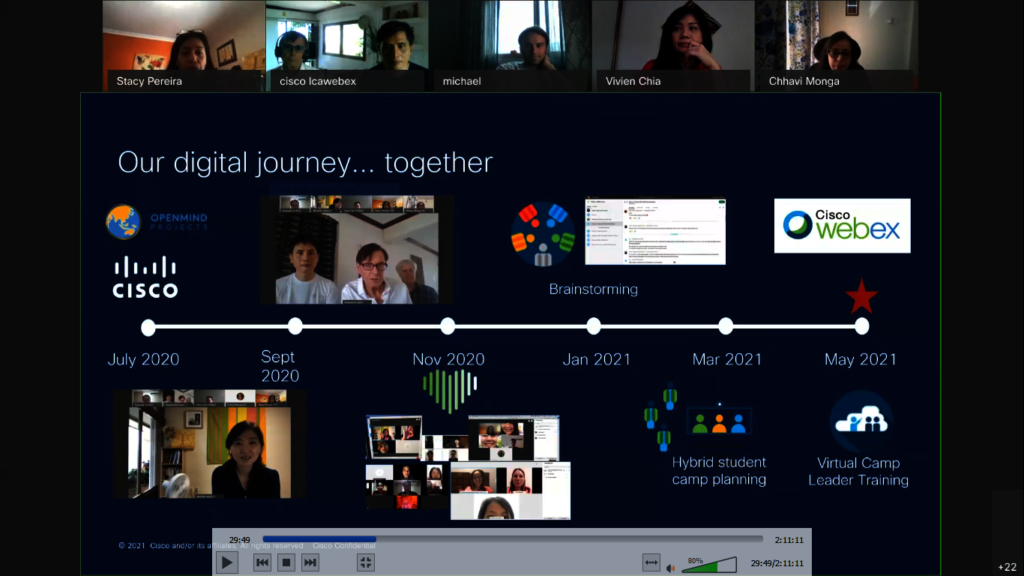 Adapting to life during and after Covid. Bringing online learning to village kids.
Welcome all generous Openmind donors to our May 2021, Progress Report, on how OpenmindProjects is adapting to Covid and to the unexpected, happening again and again. We are moving on to be able to help young people online with the support from you donors!
We do miss our trainees, campers and volunteers! How long will Covid prevent us from welcoming them back? We don't know. Unfortunately, a new and worse Covid wave is harassing Thailand. Our local work remains disrupted!
Since 2020 we have however worked with a group of alumni and volunteers from Cisco to find innovative ways to help village and migrant, refugee children online!
In January we did arrange a camp with our alumni as camp leaders and this spring OpenmindProjects and Cisco were preparing for an April 'hybrid' camp for some 40 village students. We met, agreed with schools and education authorities. Some 14 OpenmindProjects alumni, previous OpenmindProjects trainees or campers, familiar with our learning by doing approach, would act as local camp leaders and Cisco volunteers from South Korea, Singapore, Taiwan, India, China, Malaysia would join online. We prepared for this 'hybrid' camp using Cisco technology (WebEx).
Alas, Songkran, the Thai New Year celebrations, contributed to spreading Covid all over Thailand. Camp plans had to be canceled, with new Covid restrictions in Thailand. Schools will not open until later in June, a date that is of course uncertain.
Due to the new Covid wave, we had to change plans, accept the unexpected and rethink! And rethink we did with alumni and Cisco volunteers. We decided on a completely Virtual Camp, cam leader training including online learning development based on our learning by doing pedagogy.
What can we offer that we can do and interests village children and teachers? Students and teachers often have a rather dim view of present online teaching much like traditional rote learning. With Openmind alumni being able to judge what will interest students and Cisco volunteers able to judge what is technically doable, we set out!

We just finished a May Camp/Workshop with alumni and Cisco volunteers.
This is where we stand now, more optimistic and confident that we can offer an interesting and useful online option to learning with Openmind learning onsite. More schools, previous volunteers are interested, even enquiries from other countries and NGOs. Going online offers new and more opportunities to reach out for a small NGO like OpenmindProjects, provided volunteers, technology and funding!
So, we finished this virtual training/'product/service' development with our Thai/Lao alumni, based in Thailand, Laos and Sweden together with a team of Cisco volunteers located in China, Taiwan, South Korea, Singapore, India and Australia.
This camp was designed in line with our normal camps, learning by doing. Learn English while you learn about a topic. Search, analyze, discuss, summarize, present, debate with other camp teams.
This time we focused on online learning in a virtual setting, meeting online from many different locations. During this camp alumni learned how to coach campers/students. They learned to work with WebEx, use digital tools such as Kahoot, Poll Everywhere and OneMob. And, finally, they suggested online learn English activities for village schools to be supported by OpenmindProjects using Cisco technology and online volunteers.
This was a first to see, how easy/difficult it would be to work and learn together online, learning by doing! Was it doable? Yes, it is, is our confident answer!

We will, together with our alumni and volunteers from Cisco, move on to elaborate project plans to offer Online Learning Programs to schools. Four teams of alumni and volunteers will work to prepare four projects that can be implemented online at schools.We will then go back to the schools, we already planned camps with and present, discuss how to work with them with the help of online volunteers and Cisco technology.
Eventually we aim to scale up to other schools, camps and interested volunteers.Our ambition is to offer engaging and fun online learning opportunities to village children based on OpenmindProjects pedagogy and Cisco technology. Cisco Systems, is a perfect partner for OpenmindProjects.
'Online collaboration is not new to Cisco. Meetings, workshops are done via Cisco WebEx solutions. Working from home is the new norm with Covid-19. We were excited to share our experiences, best practices and digital tools with OpenmindProjects,' says volunteer Stacy Pereira, from Cisco, the Asia Pacific, Japan and China Strategy & Planning Lead. Michelle Jeong, another Cisco volunteer says, 'I'm so glad we're able to help children using our technology. When I met the alumni, I was impressed with their passion to support their communities. We're really looking and committed to continue this digital journey with OpenmindProjects.' And OpenmindProjects alumni James, now studying international relations at Mahasarakham University, says, 'Covid, a new challenge? It is unable to stop us from learning! Me and my friends will make students and schools highly benefit from OpenmindProjects and Cisco's initiative.'
OpenmindProjects has run camps for many years with international volunteers. We have a long experience engaging camper in learning activities. And we have a long experience introducing volunteers to local conditions, culture, teaching students, even language.Some 2000 Thai, Lao and Burmese teenagers have taken part in our popular camps over the years together with international volunteers. Now we want to offer engaging online learning English to village children. We bring pedagogic experience, alumni and volunteers. And Cisco contributes technology, infrastructure, online work experience and volunteers. Once Covid-19 permits, we will look forward to welcoming back volunteers and village youth!
Thank you, donors, you help us make it possible for OpenmindProjects to go on bringing learning to underprivileged people, our trainees, campers, other students with the support of volunteers.
Next time, we will tell you more about the online programs we create and also hope to bring better Covid news from Thailand!
Links: