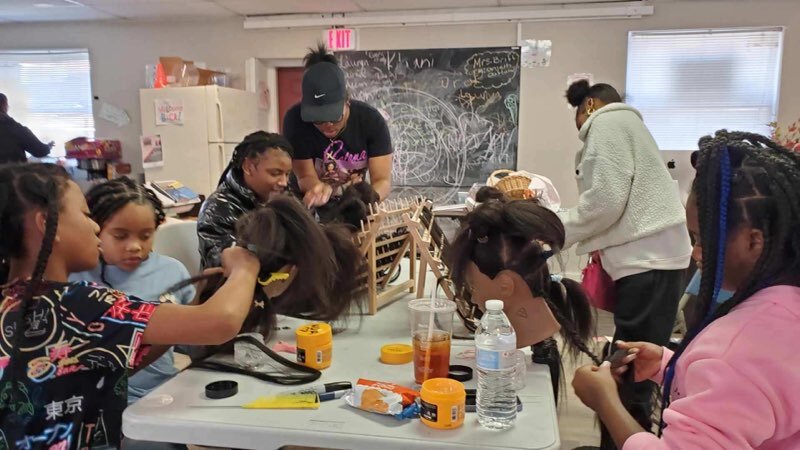 Happy New Year, Black History, & Women's History Months! We've been off to an amazing start to 2023 and we couldn't do it without you! Thank you so much for your time, support, and genuine interest in what we do! Take a look at what's been going on!
In January, in celebration of Dr. King's vision, we took 12 of our young men to tour a local private high school in partnership with Families4Families St. Albans club! The boys had a blast and were excited to learn the historical context of St. Albans, have lunch with older guys who were able to drive themselves, all while learning the importance of trust and brotherhood. It was amazing to see them have such a wonderful time together!
While the guys were learning about future educational prospects, 11 of our young ladies were interested in learning about braiding styles so in February, we honored Madame CJ Walker by teaching our young ladies the spirit of entrepreneurship! We hosted a 2 day braiding class where our young ladies learned how to complete the newest braiding trends such as knotless, feed-ins, and cross stitches. They had a blast and since then 2 of our young ladies are learning how to turn this skill into a business, with her first two customers being none other than our own Executive Director and Program Director!
In addition to all the fun we're having implementing programs, we also recognize the importance of developing an external community so we established an Advisory Board! The Advisory exists to serve as a pipeline for informed and qualified individuals to the organization's board of directors and provide independent advice to the Board of Directors through Committee service and counsel as non-board members. Advisory Board members are ambassadors for FAN and will pledge to make introductions and connections to potential partners, donors, and strategic relationships, offer recommendations and counsel as needed, and serve as champions of FAN's work and community.
We're so grateful that you're a part of our community and can't wait to update you on what happens next!
Thank you for supporting our mission! We couldn't provide safe, nurturing spaces without you!
Peace & Blessings.