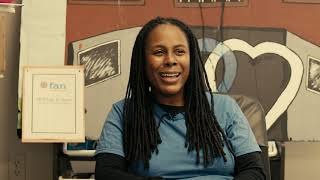 Fihankra Akoma Ntoaso (FAN), a youth peer operated center located in the southeast Ward 8 of the District of Columbia is released a documentary that highlights the impact that autonomy and environment has on mental health while acknowledging the importance of the work non-profit organizations do with limited resources. FAN is excited to be celebrating 15 years of service and to share the impact the organization has had on its program participants and the community.
COVID-19 and civil unrest has brought to light many disparities that plague disenfranchised communities. For years, non-profit organizations have worked tirelessly with limited resources to fill in the gaps. Fihankra Akoma Ntoaso (FAN) is celebrating 15 years of service and created a documentary "We Matter: 15 years of FANmily." To view the documentary, Click Here.
Racial justice is not just the absence of discrimination and inequities, but also the presence of deliberate systems and supports to achieve and sustain racial equity through proactive and preventative measures. FAN is an organization that works with youth participants to break the cycle of poverty created by systems designed to keep people of color disenfranchised. FAN opened its doors in 2005 to act as a safe space for fostered youth, but since then has branched out to service the entire community with a focus on youth who have been or may be impacted by the child welfare system. Our mission is to be a youth focused community of safe places and linked hearts. FAN breaks cycles and changes community narratives to create a safer, more connected, more loving world where youth can thrive.
"My hope is that this documentary will raise awareness about the challenges that non-profits incur when trying to serve the community. I also hope that it will shine light on the correlation between having safe spaces in the community to be yourself and positive mental health." -Josephine Mazyck, FAN's Executive Director.
FAN provided a safe environment to connect with participants and community members so that they would share about their experiences with the community and the world around them. What started as a simple question as "Why does your life matter?" evolved into a series of stories that augments the many issues the plague the black community. The question also highlights how the power of community can impact an individual life.
The documentary can be found on FAN's website at fan-dc.org or on YouTube if you Click Here. If you are interested in learning more about FAN, please check out our social media platforms: Facebook @FANwashdc, Instagram @fihankradc.