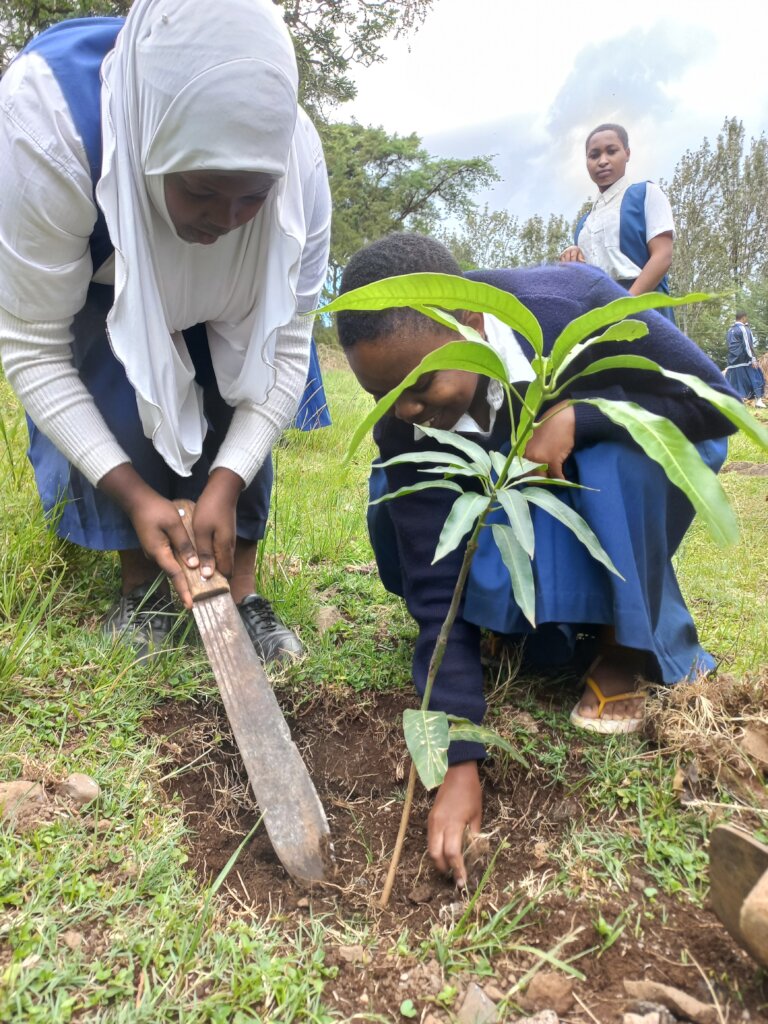 Your gifts help AfricAid support Kisa Project, a 2-year socially responsible leadership course managed and led by our local Tanzanian partner, GLAMI. At the end of a girl's time in the Kisa Project, she works together with her peers to identify and address an issue affecting her community. This 2 Day Challenge is the capstone of the Kisa Project, the culmination of many months of planning, observing, advocating, and working together as a team.
Throughout this project, Scholars apply knowledge and skills gained in the classroom in a real-world setting, directly benefiting their communities. The 2 Day Challenge often inspires Scholars to turn their ideas into action once they graduate the program and become proud Kisa Alumnae, demonstrating to the world that girls and young women are more than capable of initiating widespread positive change.
This year, GLAMI supported several 2 Day Challenge projects across Tanzania. Here are examples of their work:
ASHIRA SECONDARY SCHOOL (Group 1)
Scholars from Ashira Secondary School planted fruit trees to encourage better nutritional health among the school's students. The trees are expected to fruit in the next two years! Access to fresh fruit on campus will vastly reduce the amount of money spent on produce, improve the health of students by providing essential vitamins, encourage environmental conservation, and educate students on how to care for crops.
ASHIRA SECONDARY SCHOOL (Group 2)
Scholars from Ashira Secondary School addressed the issue of insufficient menstrual hygiene education in their community by holding a workshop on making reusable sanitary pads. This project also addressed the issue of insufficient funds for menstrual products faced by many girls and women in the community. Knowing how to make and use reusable pads helps women achieve independence, encourages problem-solving skills and personal hygiene, and has a positive impact on the environment.
KIBOSHO GIRLS' HIGH SCHOOL
Scholars from Kibosho Girls' High School addressed the issue of youth unemployment in their community by holding an entrepreneurship seminar and educating youth on making popular local snacks that can be sold for profit. Taking entrepreneurial initiative creates a ripple effect within the community, raising the overall employment rate and introducing essential business skills to those who may not be able to continue to tertiary education
KIFARU HIGH SCHOOL
Scholars from Kifaru High School built a clothes line at their school to address the issue of skin irritation experienced by many of the school's students. Students often resorted to laying out clothing on the surrounding grass and trees due to a lack of a proper drying place, which caused rashes, insect bites, and even UTIs from wearing damp underwear. Now, all students have a safe, clean place to dry their clothes, improving the overall hygiene of the community.
LANGASANI HIGH SCHOOL
Scholars from Langasani High School were inspired to act by the study skills that the Kisa Project so widely encourages. They noticed that there was a lack of space for students to study and do homework on campus, leading to poor academic performance. Scholars constructed benches out of local materials to solve this problem. The results were better than anticipated – as well as improved academic performance, students increased their peer collaboration and cooperation with teachers!
MACHAME GIRLS' SECONDARY SCHOOL
Scholars from Machame Girls' Secondary School decided to improve student health and safety by constructing a new clothesline and renovating the fence around their dormitories. The old clothesline was made from rope, which often remained damp, causing skin irritation. The old fence contained many gaps, encouraging students to skip class or take walks where they weren't supposed to, damaging the surrounding environment. There were also concerns of keeping out dangerous animals and trespassers. Now, with a reconstructed fence, students feel that their safety is much improved and are more inclined to attend classes. It also provides greater privacy around the dormitories.
MAGADINI SECONDARY SCHOOL
Scholars from Magadini Secondary School constructed and filled a library at their school to enhance student engagement, performance, and literacy. They constructed the floor and bookshelves, painted the walls and doors, and even filled it with donated textbooks!
MAJENGO SECONDARY SCHOOL
Scholars from Majengo Secondary School constructed an incinerator at a neighboring school to improve environmental pollution and student health. Previously, students lacked proper waste disposal, creating a safety hazard. Now, students can safely and effectively dispose of garbage, leading to a cleaner and healthier academic environment!
MAWENZI SECONDARY SCHOOL
Scholars from Mawenzi Secondary School constructed a notice board at their school to display announcements and timetables. Previously, such notices were pinned to classroom walls, causing damage and risking the safety of the building. Now, information is centralized on campus and more readily available to all students!
MKUU SECONDARY HIGH SCHOOL
Scholars from Mkuu Secondary High School constructed a notice board to combat the issue of miscommunication among the school's students and staff. With the notice board being displayed at the school's entrance, all students are now able to easily get correct information about exam results, school rules, and schedules.
MSANGENI SECONDARY SCHOOL
Scholars from Msangeni Secondary School installed a water tank and faucet on campus. Previously, the school's students had to walk over a mile one-way to the nearest water source for hydration, leading to physical and mental exhaustion. Now, water is easily accessible to students, allowing them to focus their energy on their studies!
MWIKA SECONDARY SCHOOL
Scholars from Mwika Secondary School installed a clothesline on campus. Previously, the school's students were drying their clothes on the grass, on tree branches, and even on rusty wires, leading to the breakdown of their clothing and to skin rashes and irritation. Now, overall student health is much improved, there is more drying space, and clothing remains intact!
NURU SECONDARY SCHOOL
Scholars from Nuru Secondary School took on a big job of renovating the dormitory bathrooms! They repaired floors, walls, and doors, and now have a much cleaner bathroom facility for everyday use. This led to improved privacy and health among the students
OSHARA SECONDARY SCHOOL
Scholars from Oshara Secondary School rehabilitated their school's kitchen, eradicating health issues caused by dirty food and utensils and establishing a safe waste disposal system. Previously, the kitchen had no proper floor, windows, or chimney, but now it contains all three! The 500 students who use the kitchen daily are now able to prepare clean food in a safe environment.
TARAKEA SECONDARY SCHOOL
Scholars from Tarakea Secondary School installed a clothesline at a neighboring school, eliminating the risk of skin irritation and damage to clothing due to drying laundry in unsafe conditions. Previously, students were hanging clothing from the gutters, blocking the flow of rainfall to the water tank. Now, there is more space for drying laundry and the water tank remains full!
WERUWERU SECONDARY SCHOOL (Group 1)
Scholars from Weruweru Secondary School installed new sinks on the school grounds in order to improve public health and hygiene. Previously, the area was surrounded by stagnant water from poorly constructed wash basins, providing a breeding ground for mosquitoes and leading to a risk of malaria. Now, the stagnant water has been eliminated with the construction of new sinks!
WERUWERU SECONDARY SCHOOL (Group 2)
Scholars from Weruweru Secondary School renovated their library in order to improve academic performance and focus among students. Now, students have a designated study space and are able to prepare well for their exams, increasing their post-graduate opportunities.