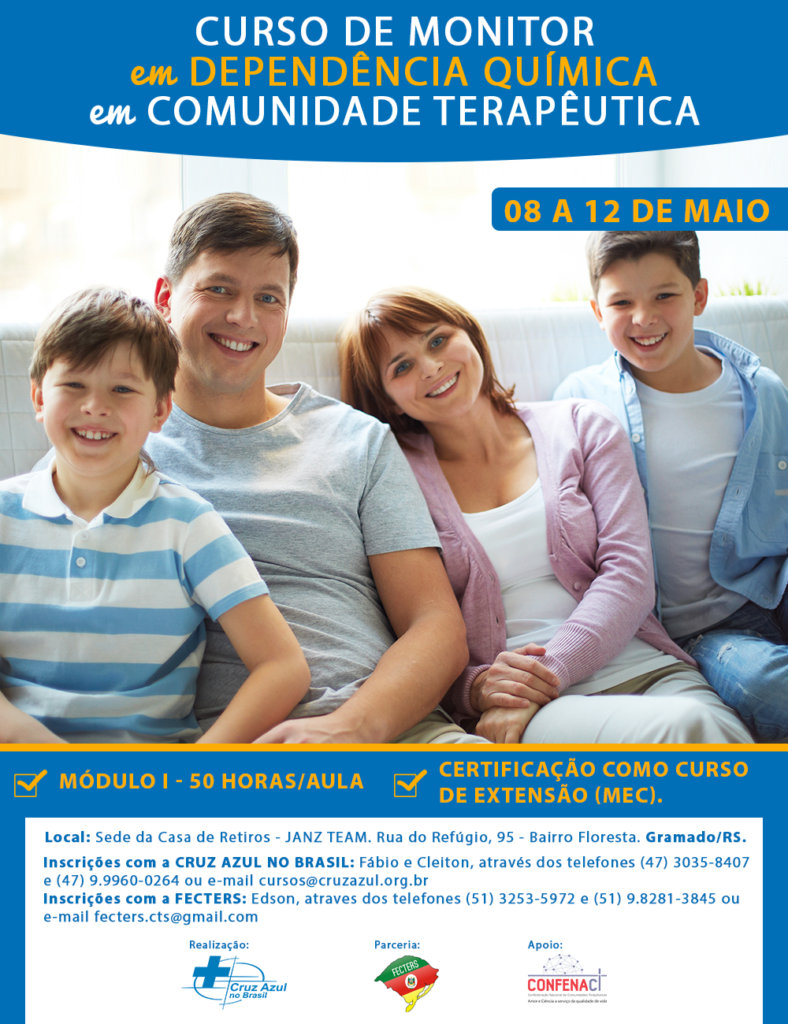 According to the Brazilian National Drug Report 2009, an estimated 12.3% of the adult urban population in Brazil suffers from dependence on alcohol, making alcohol misuse a significant public health issue. Blue Cross Brazil, a member of the International Blue Cross based in Blumenau, is providing treatment and aftercare services in the three Southern states of Santa Catarina, Paranà and Rio Grande do Sul, where alcohol and drug use is most prevalent. The organization has developed over the past eight years, growing from just 4 employees with 40 volunteers to a leading organization in the development of therapeutic communities in Latin America with a team of 23 staff and over 377 volunteers!
In 2012, the Blue Cross in Brazil, along with four other national federations of therapeutic communities, founded CONFENACT – the National Federation of Therapeutic Communities. Under the umbrella of this new organization, Blue Cross Brazil led the discussion with the Brazilian Minister of Justice, Eduardo Cardoso, to implement new legislation that will recognize therapeutic communities as entities that are eligible to receive state support through social benefits. This includes support for projects in the field of alcohol and drug prevention, family support, and fostering the social reintegration of addicts. After nearly two years of discussions and negotiations with the National Council on Drug Policies (CONAD), the legislation was passed, bringing addiction to the forefront of the social and health agenda in Brazil and creating a model for other Latin American countries to follow. BC Brazil has a key coordination role within this network.
Another important field of work is prevention. Prevention work is primarily done through community outreach in theatre performances, lectures, discussion groups and literature that has reached an estimated 50,000 individuals in 2015 alone. In one of the theatres, a prevention story is performed by vulnerable adolescents who are regular participants in the Blue Cross activities. These children want to use their own experiences to educate others about the dangers and risks associated with drug and alcohol abuse.
There are KIDS Support Groups for children who are particularly vulnerable when their parents drink – they often judge themselves, face social exclusion, are terrified of abandonment and quite often become addicts themselves. Support groups like these give children confidence, a network of people to rely on and trust. They provide positive guidance during a critical time in their lives, when behaviour and decision-making are easily influenced. In the long term, KIDS support groups create physically and mentally healthy adolescents and adults who can function in society, eventually becoming positive agents for change.
Stay on top of the activities at BC Brazil by following them through facebook and their webpage. Meanwhile I warmly thank you for your support that enables BC Brazil to keep reaching the most vulnerable!
Links: