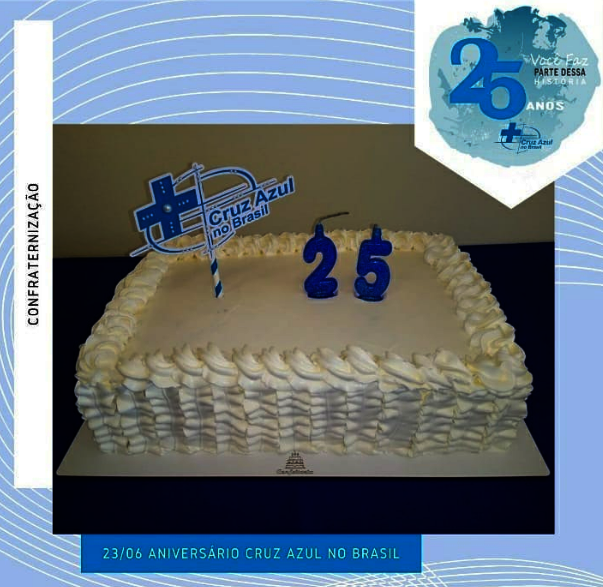 On June 23, 2020, the Blue Cross in Brazil celebrates 25 years since its foundation in 1993.
On Tuesday, there has been a small celebration. Due to the pandemic, in order to have the necessary distance, only part of the Cruz Azul team gathered, some members of the board, represented by President Rolf Hartmann and other representatives from different partner organizations from the Blue Cross Brazil were present.
It was a special moment of gratitude and joy, where souvenirs were also given to the collaborators who completed 10 years or more of work. A remarkable video of people participating in a support group of the Cruz Azul - Vidas Restauradas network, was shown, reporting their story and how they have been helped by the work of the Blue Cross Brazil.
Without a doubt, the greatest gift that the Blue Cross in Brazil has today are the people involved in the work, directly or indirectly: recovered lives, restored families, capacitated people, executive team, board of directors, councils, members, donors, volunteers! So many people throughout Brazil have been touched through the organizations mission: "For a Life, without drugs!
Concluding the historical and special moment, the president of Cruz Azul, also founder, Rolf Hartmann, thanked God for the care, direction, support, and growth of the work, and expressed his gratitude to all the collaborators, members, family and friends of Cruz Azul who together have supported and worked throughout the history of the entity, and also in the present times. He reminded everyone that the basis, value and foundation of the Blue Cross is people with faith and unconditional love for vulnerable people.
The Blue Cross Brazil thanks all its donors for their support in the last 25 years!
Let's keep on together in the coming years!