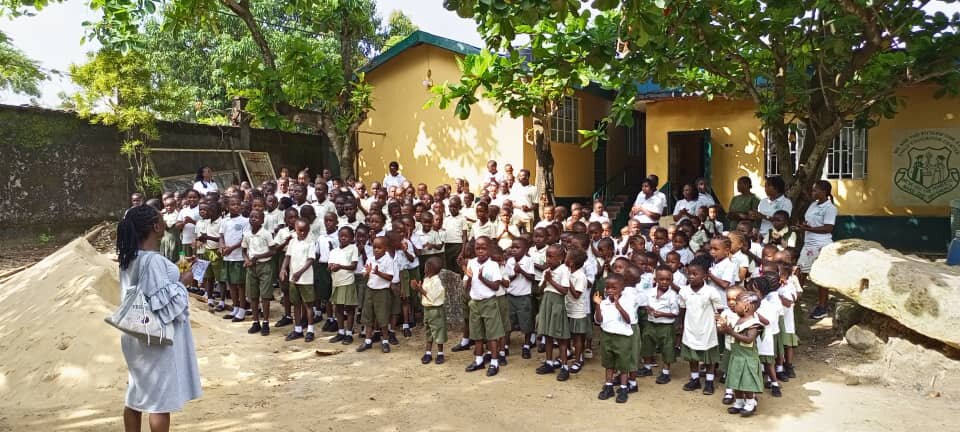 Although last year came with many challenges, the final report proves that it was still very successful in many ways. The school achieved an incredible retention rate of 99%, which is very high for sub-Saharan Africa. As parents were anxious about their financial situation due to the pandemic, sending them to school meant that they were cared for and ensured that they had at least their daily school meal.
Most of the food for the lunches is grown in the Kitchen Garden, which was started by WAF five years ago, and has been continuing to develop ever since. As well as providing fresh produce it is a source of employment and training ground for young people and women.
Another great success we are happy to share with you is, that we finally had enough funding to start the construction of a water tower, that will serve the school and local community. It was built in four weeks only and we are now just waiting for the fundament to settle so the water tanks and solar panels can be installed. It will hold 10,000 litres of water, making life so much easier by reducing the watering time by 70%.
This will provide more freshwater for the garden, as well supplying fresh water for 300 local households. When the water tower is operating, the gardeners are planning to develop greenhouse technology, which produces more fruit and vegetables. The garden already has one greenhouse and they want to construct another four, which will more than double the yield. As well as supplying the school kitchen, this will enable them to sell more produce locally, which will help the project to be more sustainable.
Finally, another piece of good news is that the school has just completed a new classroom, plus four toilets. This will help the school to maintain social distancing in the classroom and improve sanitation and hygiene.