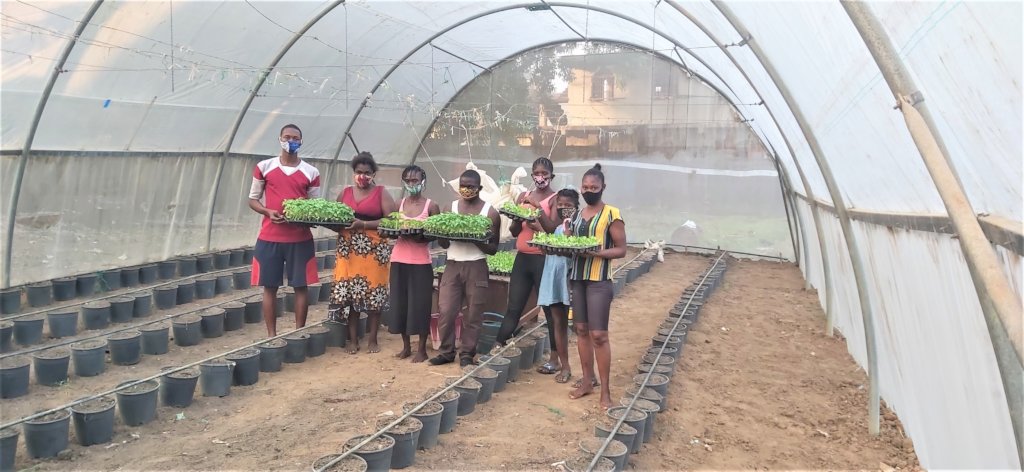 As we reported in the autumn, the We Are The Future School was closed during the summer term because of Covid restrictions. Instead, the School was transformed into be a local hub, from which water, detergent, facemarks and food were delivered to. The kitchen garden continued to function and WAF distributed food to the local community.
The school and kitchen-garden re-open in October
In autumn 2020 the school re-opened with normal classes, and parents were confident enough to send their children back to school. The children and staff all wore masks in the classrooms, and regular handwashing and social distancing were maintained. The school roll is 238, with equal numbers of boys and girls, a very positive sign, given that many families do not feel it is worth educating girls. The term continued as normal, with end of term exams.
Normal garden production restarted in October with the same very good quality fresh supplies of green vegetables: lettuce, green beans, peppers, kale, spinach, spring onions, cassava and potato leaves on a daily basis, providing healthy meal for the 238 children.
Full tummies mean better grades
School staff have noted a continual significant reduction in school dropout, absenteeism and lateness, as children do not have to take time off to help their parents forage for food. A regular meal means there is a sharp drop in malnutrition among young children which accounted for most of the sick cases or in the worst case, death, before the project began.
Children's grades improve year-on-year thanks to regular daily meals. In 2019 there was a 78% pass in the West African Examination Council-National Primary School Examination, required to enter Junior Secondary School. In 2020 this had risen to an incredible 92% pass rate.
The community sees the school as its own and are very proud of every success, and the example of the garden has encouraged some parents to start to cultivate their own small kitchen gardens.
A new water tower will help the school, and the local community.
GFYA is now fundraising for a water tower to supply the kitchen garden. It would provide 10,000 litres of water and enough pressure to operate a drip irrigation system, reducing watering time by 70%. The new water supply, drilled from underground would be purer, increasing the quality of the crops, and produce clean water for 300 local households, as well as extending the garden so it could feed a neighbouring school of 450 children as well.
Little By Little Campaign: your donation goes the extra mile
GlobalGiving is running the Little By Little campaign. Every donation up to $50 between March 8th till the 12th, will be matched 50% by GlobalGiving. For example, if you give $0, that's $30 that will go to the project - at no extra cost to you - to help more children like Martin get the education they need to look forward to a brighter future.
I know you probably have a lot on your mind right now, but I hope you'll consider making a small gift, that would help GFYA extend the kitchen garden and hopefully be able to construct the water tower soon.